Cingrani building repertoire in sophomore year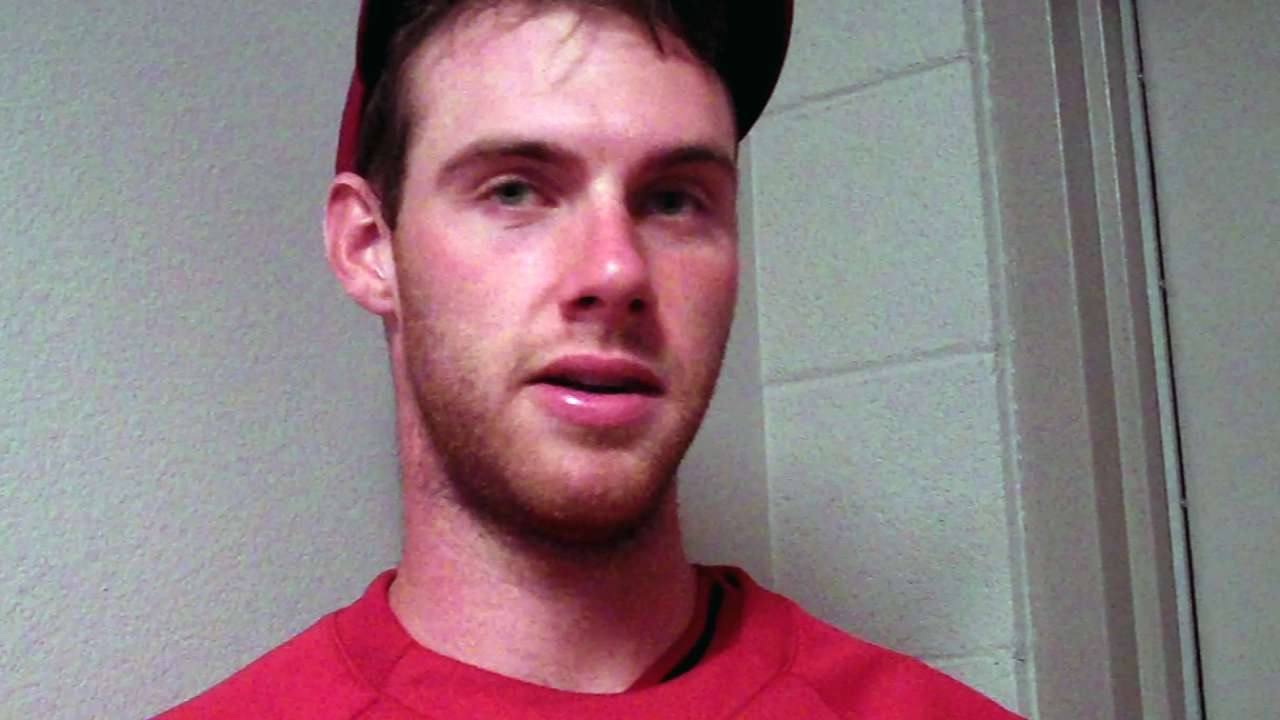 GOODYEAR, Ariz. -- Reds left-handed starter Tony Cingrani already has a hard fastball that can get on hitters quickly. For his sophomore season, Cingrani is trying to broaden his repertoire by enhancing his slider.
A couple of days ago, Cingrani said he received a useful tip from teammate and fellow lefty Sean Marshall.
"He said to throw it off your fastball," Cingrani said. "He said [Greg] Maddux told him to just throw it off that fastball arm slot and about halfway to the plate, it should look exactly like the same pitch, and the slider will fall and the fastball will jump on them. It seems to work pretty well."
Cingrani, 24, used the pitch a couple of times during his 2014 spring debut as the Reds beat the Rockies, 3-2, on Saturday.
Over his two scoreless innings, Cingrani allowed one hit and struck out the side in the top of the second inning.
"It was fun to get back out there and challenge guys," Cingrani said. "It was getting that arm strength back up there, and I was just attacking hitters. I threw a couple of good offspeed pitches in there and a couple of sliders. It was good."
Just about the only thing that kept Cingrani's great rookie 2013 season from being really exceptional was a sore back that twice kept him off the mound. From Aug. 25-Sept. 4, he was on the disabled list with a back strain. Upon his return, the injury flared up again in a Sept. 10 game and ended his season.
"Tony was terrific," Reds manager Bryan Price said on Saturday morning. "It could have been a huge year if he had been able to stay healthy. His contribution was significant last year. It was kind of a teaser last year of what we think he's capable of doing."
Cingrani, who was called up to replace an injured Johnny Cueto, was 7-4 with a 2.92 ERA in 23 games, including 18 starts. He walked 43 and struck out 120 in only 104 2/3 innings.
With the Reds expecting Bronson Arroyo to depart as a free agent, they had designs on making Cingrani a full-time member of the rotation this year.
"It made it a lot easier pill to swallow knowing we had Tony," Price said. "I just think he's the full package. He's an athlete. He's got a special pitch with his fastball. It's hard to put in play. It's a funky pitch. You get a lot of strange swings on it. He's hungry to get better. He handles the bat well, runs the bases aggressively. He brings a good energy to us and an intensity to the game that you love to play behind."
Price would like Cingrani to be more economical with his pitches this season.
"While I say that, he's going to throw pitches that get missed. He's that type of pitcher," Price said. "He'd run away from a handful of pitches that I call empty pitches, because they didn't serve really any type of a purpose. We would like to decrease those numbers and have him be a little bit more consistent in and around the strike zone."
Mark Sheldon is a reporter for MLB.com. Read his blog, Mark My Word, and follow him on Twitter @m_sheldon. This story was not subject to the approval of Major League Baseball or its clubs.