MLB.com Columnist
Terence Moore
Pair of deals shows MLB's economy is in great shape
Aces Price, Kershaw both rewarded handsomely as clubs have money to spend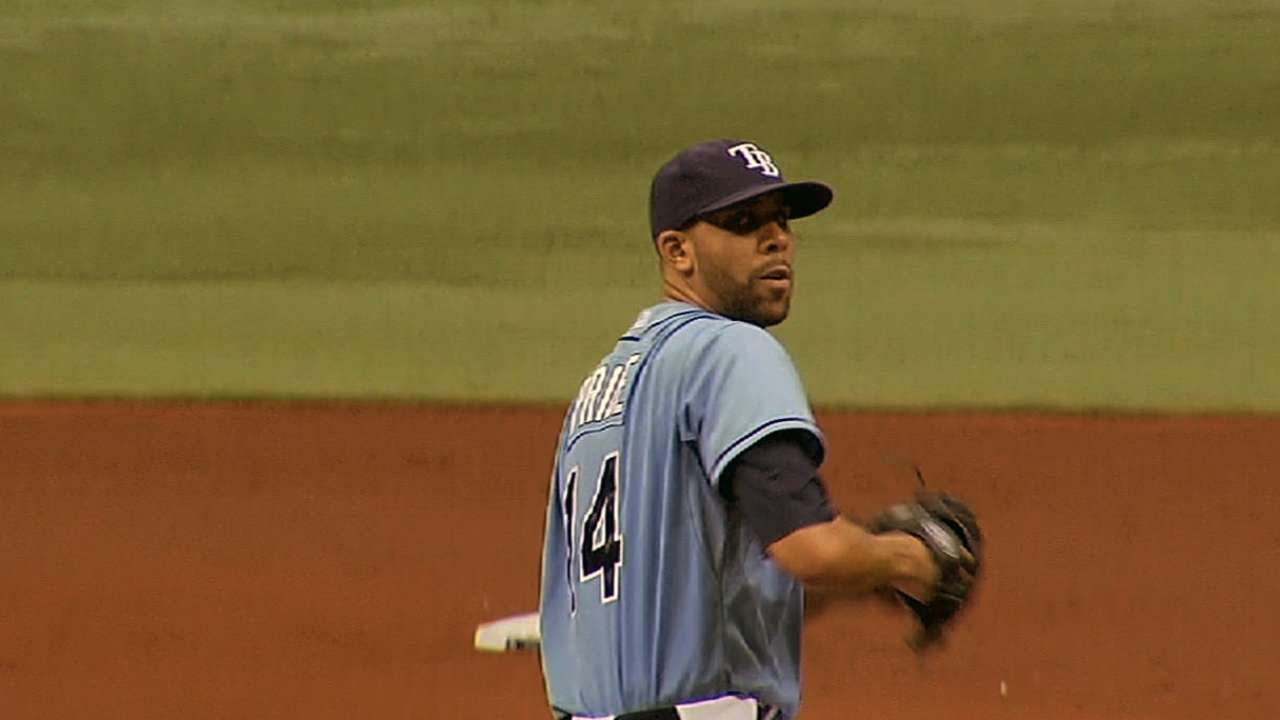 In case you weren't paying attention, a message was sent this week to deep thinkers everywhere after the completion of that huge baseball contract. No, not that one. This one: The Rays and perennial All-Star pitcher David Price agreed on a one-year contract worth $14 million, avoiding arbitration. As for that other one, the Dodgers signed pitcher Clayton Kershaw to a deal worth $215 million for seven years, and that comes out to an average of $30.7 million per year.
Let's see: Kershaw will get more than twice as much as Price next year, so why did I mention the Price deal first?
I told you this only was for deep thinkers.
Channel your inner combination of Socrates, Maya Angelou and Yogi Berra, and now consider this: The Rays rank near the bottom of baseball in total revenue, but they just found enough to pay Price more than James Shields, more than Carl Crawford, more than B.J. Upton, more than Carlos Pena, more than Evan Longoria, more than Fred McGriff -- more than anybody in their history for a season. So if one of the game's poorer teams can do something like that, it tells you baseball overall is doing just fine, thank you.
Forbes magazine says so. It estimated that Major League Baseball's gross revenues exceeded a record $8 billion last year. For perspective, Forbes placed the game's gross revenues in 1995 after the players' strike at $2.2 billion when you adjust for inflation. Which means that, according to Forbes, over the past 18 years, gross revenues in baseball have increased 264 percent.
If you don't trust those Forbes numbers, just go back to the ones of Price and Kershaw this week. While the Price contract was a franchise record for a single season, the Kershaw contract was a baseball record. Alex Rodriguez was the previous financial king at $27.5 million per season with the Yankees. In addition, there have been in recent years the mega deals of Robinson Cano with the Mariners, Albert Pujols with the Angels and Joey Votto with the Reds, and they represent a mixture of big markets and smaller ones.
Here's the bottom line: You don't spend money that you don't have, and when you study all of these signings -- especially the ones of this week, with the Rays near the bottom of baseball's revenue stream and the Dodgers near the top -- well, you get the picture. No team in the Major Leagues is on the verge of filing for bankruptcy any time soon.
Not only that, with baseball's rich television contracts and with turnstiles clicking at a steady pace, there isn't such a thing as an overpaid player. You are at least worth whatever somebody is willing to pay you, and teams are willing -- and able -- to pay a lot these days. Which brings us to baseball's version of the law of supply and demand. Historically, the supply of elite players always has been limited, but the demand always has been significant. That's why you have Kershaw winning two National League Cy Young Awards in the past three seasons, capturing three straight NL ERA titles, signing a monstrous contract and causing those throughout society who don't know the truth to cringe.
The truth is, teams such as the Dodgers (and even the Rays, to a lesser extent) have the money to spend.
Such has been the case more often than not in baseball history, but there once was baseball's reserve clause, which restricted the movement of players from team to team. That was before free agency and salary arbitration surfaced during the early 1970s. As a result, there was that well-documented outrage during the Great Depression when the Yankees gave Babe Ruth a $10,000 raise for a salary of $80,000 in 1930.
Critics said President Hoover only was making $75,000, but they missed the point. The demand for somebody who could bring financially strapped folks to the ballpark was great, and the supply for those who could do so by slamming balls over walls consistently was tiny. In the midst of the controversy, Ruth responded by saying, "I had a better year than [Hoover] did."
Decades later, there was disbelief in the late 1960s, when Pete Rose boldly predicted he would become the first singles hitter to get $100,000 per year, and it happened soon afterward.
Then there was the United Press International story I found from March 1976 that suggested the planet was about to explode because the Brewers had the audacity to make 42-year-old designated hitter Hank Aaron baseball's highest paid player at $240,000. While Ruth made $5,000 more than Hoover, Aaron topped then President Gerald Ford by $40,000 (Kershaw will make eighty times more than President Obama). That UPI article also mentioned the other players over $150,000 per year: Richie Allen ($225,000), Johnny Bench ($200,000), Joe Morgan ($200,000), Rose ($190,000), Lou Brock ($175,000), Carl Yastrzemski ($165,000) and Steve Carlton ($165,000). Except for Allen and Rose, all those players made the National Baseball Hall of Fame.
That doesn't mean the overwhelming majority of high-salaried baseball players of a given era were worthy of Cooperstown. It does mean they were pretty good, and so was baseball's economy at that time.
Like this time.
Terence Moore is a columnist for MLB.com. This story was not subject to the approval of Major League Baseball or its clubs.