Leake happy to know he has spot in rotation
Leake happy to know he has spot in rotation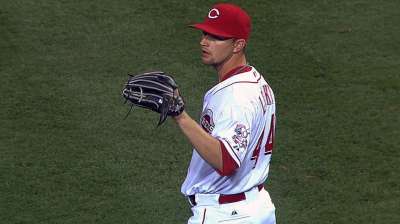 CINCINNATI -- Coming off of his strongest season in the big leagues, Reds starting pitcher Mike Leake won't have to wonder about his spot this offseason.
Leake was 14-7 with a 3.37 ERA in 31 starts and 192 1/3 innings -- all career bests.
"This might be the first year I haven't had to fight for something," Leake said. "I'm still going to have the same tone I bring in. I'll work on things for a few outings and get back into it. It will be nice to go in with a little more set in stone, and freedom."
Leake looked noticeably heavier and added about 10 pounds since the season ended. He says he now weighs 193 pounds.
"I've tried to put a little weight on," Leake said. "I'm trying to experiment with some extra weight, to see how it feels and if I like it or not. I can always go back down if I need to. I'm lifting, eating, anything. I've got 200 pounds in my head to see what it would be like to get to."
Mark Sheldon is a reporter for MLB.com. Read his blog, Mark My Word, and follow him on Twitter @m_sheldon. This story was not subject to the approval of Major League Baseball or its clubs.