Redsfest carries on despite heavy snowfall
Redsfest carries on despite heavy snowfall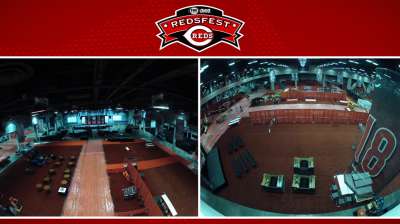 CINCINNATI -- As Redsfest 2013 opened on Friday inside the Duke Energy Convention Center, the city of Cincinnati had declared a snow emergency outside. The first snow storm of the year in the area closed most area schools and left roads a mess.
While there still was a decent turnout, the Reds expected lower-than-usual attendance because of the weather.
"The weather is going to affect turnout for Friday based on the timing of when the snow fell," said Reds senior vice president of business operations Karen Forgus. "And this is a regional event. It was not an isolated Cincinnati weather incident. It's been affecting people all around us for the last 24 hours."
Most of the Reds players from out of town were flown to Cincinnati on Thursday ahead of the storm. It's the first time in several years that weather has been a factor on Redsfest weekend. Postponing the annual event was not an option.
"The convention center is booked," Forgus said. "We always know we're going to do it, snow or no snow. We've been really fortunate."
Redsfest continues on Saturday from 11 a.m.- 6 p.m. ET. Snowfall is expected to be over by then.
"I'm guessing Saturday will be intensely busy," Forgus said.
Mark Sheldon is a reporter for MLB.com. Read his blog, Mark My Word, and follow him on Twitter @m_sheldon. This story was not subject to the approval of Major League Baseball or its clubs.