Three keys for Reds in NL Wild Card Game
Three keys for Reds in NL Wild Card Game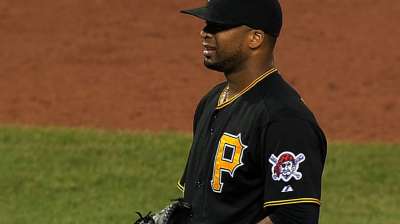 CINCINNATI -- After 162 games and 90 wins, the Reds' postseason fortunes now hinge on a single game.
They'll advance if they win Tuesday night's National League Wild Card Game against the rival Pirates at PNC Park, set for an 8:07 p.m. ET first pitch and airing on TBS. Lose, and they'll go home for a winter lacking fulfillment.
Cincinnati enters the playoffs under less-than-ideal circumstances, riding a season-high-tying five-game losing streak, including a just-completed three-game sweep at Pittsburgh's hands at Great American Ball Park.
Fortunately for the Reds, the playoffs mark a fresh start. What happened in the regular season no longer matters. A few teams -- including the 1997 Marlins, 2002 Giants, '04 Red Sox and '11 Cardinals -- have gone from Wild Card entrant to World Series champion.
Here are three keys for the Reds to take that first step and advance to the NL Division Series, where they would play the Cards starting on Thursday:
Johnny Cueto
Cincinnati is in a tailspin of late, but the club can take solace in the fact that a team's momentum is most often in the hands of the starting pitcher of the day. If Cueto, the staff ace, has a good day, the Reds' chances of winning increase. Cueto is 13-4 with a 2.37 ERA in 21 lifetime starts against the Bucs, and he is 8-2 with a 1.90 ERA in 13 starts at PNC Park.
But there is more to the scenario than simply needing a good start. The Reds need Cueto to be healthy, too. He has only two starts under his belt after returning after a 2 1/2-month layoff because of his third stint on the disabled list this season with a strained right lat muscle. And fresh on everyone's mind is Cueto being forced out of Game 1 of the NLDS at San Francisco last year with a right oblique strain.
Can the offense wake up?
During their losing streak, the Reds scored all of eight runs, and that included a shutout. Several key hitters ended the regular season in a funk, including Jay Bruce (4-for-34), Joey Votto (3-for-16), Brandon Phillips (7-for-35) and Ryan Ludwick (7-for-37).
On the other hand, Bruce is capable of big things, as demonstrated by his team-leading 30 homers, 109 RBIs and 43 doubles. Votto reached safely a team-record 315 times in 2013, while teammate and leadoff hitter Shin-Soo Choo reached 300 times this season. Phillips is limping from fouling a ball he hit off his left ankle, but he came through with 103 RBIs. Someone needs to come up with a big hit, and the season's track record indicates it should be Bruce or Phillips.
Can Hamilton's speed steal a run?
Since his Sept. 3 callup from Triple-A Louisville, rookie and top prospect Billy Hamilton has brought elite speed, providing Cincinnati with some sizzle in the late innings. Hamilton successfully stole 13 bases in 14 attempts, including three against Pirates catcher Russell Martin in the recent three-game series at Pittsburgh.
Expect Hamilton to be used, if needed, as a pinch-runner in the late innings when the Reds need a tying or go-ahead run. Used seven times as a pinch-runner in the regular season, the 23-year-old scored two game-winning runs, a go-ahead run in extra innings and a game-tying run (Sept. 20 at Pittsburgh).
In a tight pitchers' duel between Cueto and Francisco Liriano, one run could be the difference, and Hamilton can be the game-changer to score it.
Mark Sheldon is a reporter for MLB.com. Read his blog, Mark My Word, and follow him on Twitter @m_sheldon. This story was not subject to the approval of Major League Baseball or its clubs.