Baker not concerned about HBP factor in critical series
Baker not concerned about HBP factor in critical series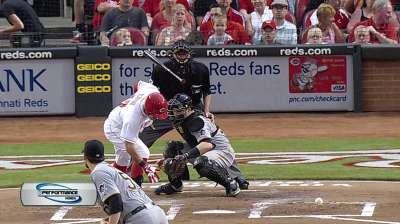 PITTSBURGH -- As the Pirates returned to contender status this season and have battled the Reds for the National League Central all season, a high volume of hit-by-pitches have added spice to the rivalry.
The two teams play each other six times of their final nine games and are vying for either a division title or home-field advantage in the NL Wild Card game. Reds manager Dusty Baker wasn't concerned that hit batsmen would play into the strategy of either team.
"I haven't even thought about it," Baker said on Friday. "I don't have time to think about it. The first time I thought about it is right now, I swear. Both clubs pitch inside. A lot of the hitters don't know how to get out of the way of the pitch, so therefore you've got hit batsmen. Sometimes, it's the batter's fault."
Reds and Pirates batters have been hit by a pitch a combined 22 times in 2013, the third-most between two teams this season. Five Reds batters have been hit 11 times by eight different Pirates pitchers, including Shin-Soo Choo's six plunkings.
"I blame the hitters as much as I blame the pitchers," Baker said. "A lot of these guys on all teams are comfortable now. Anything close is intentional, which is crazy."
Mark Sheldon is a reporter for MLB.com. Read his blog, Mark My Word, and follow him on Twitter @m_sheldon. This story was not subject to the approval of Major League Baseball or its clubs.