Baker to give starters a shorter leash going forward
Baker to give starters a shorter leash going forward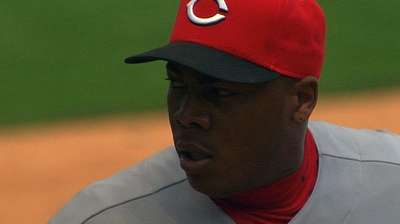 MILWAUKEE -- Reds manager Dusty Baker did something on Saturday that he would not have done early in the season.
With the Reds leading the Brewers 7-3 and two outs in the eighth inning, Baker brought in his closer Aroldis Chapman to face Brewers pinch-hitter Jonathan Lucroy with the bases loaded.
Chapman struck out Lucroy and worked around two ninth-inning walks to record a four-out save, his 36th of the season.
Did Baker like bringing in Chapman in the eighth inning? "Well, not really," Baker said. "We'd prefer not to stretch him out. Not because we wanted to, but because it was a necessity. It's down the stretch here and he hadn't been pitching. Plus, he hadn't tried a two-inning save like [Yankees closer] Mariano Rivera. All these games are important."
Chapman recorded more than three outs just once this season prior to Saturday, a two-inning save against the D-backs on Aug. 21.
Baker said he will have a shorter leash on his starters for the final two weeks of the Reds' playoff push.
"It's a little bit easier to do that now that you have every Thursday off-day," Baker said. "Before, you could go through your whole bullpen trying to win that game and lose ensuing games because you don't have a bullpen. You try to keep everything as much the same as you can, but circumstances make things change."
Kevin Massoth is an associate reporter for MLB.com. This story was not subject to the approval of Major League Baseball or its clubs.