Marshall nearing return to Reds bullpen
Marshall nearing return to Reds bullpen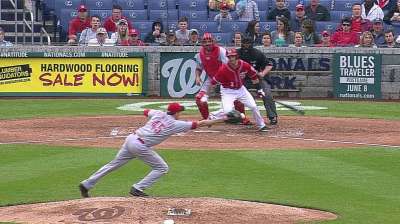 MILWAUKEE -- Reds left-handed reliever Sean Marshall threw a bullpen session on Friday and said he is ready to rejoin the team. But with a little more than two weeks left in the season, Marshall's fate is not in his own hands.
Reds manager Dusty Baker has a few decisions to make with Marshall and Johnny Cueto on their way back from the disabled list and Tony Cingrani dealing with a back injury.
"Time isn't on our side with Johnny or Marshall," Baker said. "Are they better than what we have in the 'pen? Ordinarily that'd be no question, you know what I mean? But this is a different circumstance. We'll see."
Marshall has been on the DL since May 24 with a sprained left shoulder, but he threw between 25-27 pitches in a simulated game on Friday at Miller Park. He said he was able to throw all of his pitches and was especially encouraged by his breaking pitches.
"I think I can get guys out right now," Marshall said. "Especially with the game situations, I think I'll be a little more pumped up, so I'm sure my stuff will be a little bit better. But it's really not up to me. I just work my butt off every day, and I've been trying as hard as I can for the last several months trying to get back on the field to this point. I've been very patient so far, so I'll just continue to be patient and let them dictate what the next step is."
With the postseason on the horizon, Baker said it is vital to find out what Marshall can give the Reds in the next two weeks. He said there are a few hurdles to jump before thinking about the postseason.
"He'd have to feel comfortable with himself and honest with himself first," Baker said. "And then, is Marshall or the guys that we have throwing better than him at this stage of the game? So that's how we'll make our decision.
"The thing about it is he's trying everything within his power in order to get ready, but you'd have to get in a couple games before you get in the postseason. Then you've got to show that you can go back-to-back-to-back maybe in the postseason. So a few questions that need to be answered that you're asking me, and only time will tell."
Marshall says he is ready to give it a go.
"I felt like the crispness of my breaking pitches was where I wanted them to be," Marshall said. "I was able to locate them on both sides of the plate. Back-door sliders, back-door curveballs, kind of down and in, back-foot stuff. If I'm able to do that, I'll get guys out."
Kevin Massoth is an associate reporter for MLB.com. This story was not subject to the approval of Major League Baseball or its clubs.