Cingrani leaves game with back spasms
Cingrani leaves game with back spasms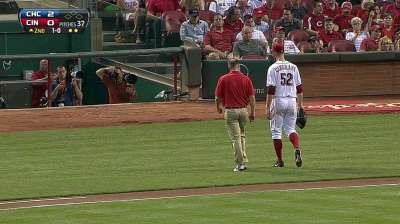 CINCINNATI -- In what could be a tough setback in the stretch run, the Reds had to cut short starting pitcher Tony Cingrani's outing in Tuesday's 9-1 loss to the Cubs due to back spasms.
Cingrani was visited at the mound by a trainer and pitching coach Bryan Price following a 1-0 pitch with two outs in the second inning to the Cubs' Edwin Jackson at Great American Ball Park. After a few moments, Cingrani was taken out of the game.
On Aug. 20 vs. Arizona, Cingrani was lifted after 3 2/3 innings because of a lower back strain. He was placed on the 15-day disabled list and missed two starts before returning on Thursday to throw 5 1/3 innings with seven strikeouts in a 6-2 win over the Cardinals.
"It was the same injury," Reds manager Dusty Baker said. "He warmed up great, didn't feel anything and then in between the first and second [innings], he said it was back. That was devastating at that point to lose him and to have to go to my bullpen that early. Thank God we have an off-day on Thursday."
During his 1 2/3 innings, Cingrani labored. He issued a leadoff single to Starlin Castro and walked Darwin Barney in the first inning before getting Anthony Rizzo to ground into a double play and striking out Donnie Murphy.
In the second, Junior Lake hit a leadoff double off the wall in left-center and with one out, Welington Castillo tattooed a two-run home run to the left field upper deck before Ryan Sweeney flied out to left field. Then came the final pitch to Jackson. Cingrani threw 37 pitches and allowed two runs on three hits and a walk with one strikeout.
"I don't know what happened to Cingrani," Cubs manager Dale Sveum said. "I don't think the ball was coming out of his hand like it did earlier in the year, that's for sure."
The Reds noticed the same thing. Cingrani, who often throws 94-96 mph, appeared to have lower velocity vs. the Cubs. He was throwing mostly 88-91 mph fastballs and topped out at 92 mph.
"We had our eye on the [radar]," Baker said. "It kept going down and down and down. I told Bryan to go check on him and prepare to get [Greg] Reynolds in the game. We had our eye on the board, and all of a sudden it looked like the ball wasn't reaching. So we got him out of there in time, hopefully it's not too sore or too bad."
The right-handed Reynolds, who replaced Cingrani in the rotation while he was on the DL, finished the Jackson at-bat but gave up four runs (three earned) in his 1 2/3 innings.
It's been a solid rookie season for Cingrani, who stepped up twice when ace Johnny Cueto went on the disabled list. He is 7-4 with a 2.92 ERA in 23 games, including 18 starts.
Now as the Reds wait and see on Cingrani's back, expect adjustments to the rotation. The team has flexibility with off-days each of the next three Thursdays before the end of the regular season.
"We tweaked that before the game to have our best pitching for the real big series," Baker said. "We sort of came up with a plan. We'll let you know."
Baker and Price can only hope going forward that Cingrani can be healthy enough to be part of that plan.
Mark Sheldon is a reporter for MLB.com. Read his blog, Mark My Word, and follow him on Twitter @m_sheldon. This story was not subject to the approval of Major League Baseball or its clubs.