Marshall takes big step in recovery process
Marshall takes big step in recovery process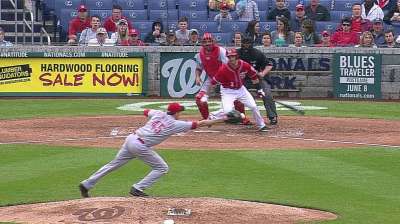 CINCINNATI -- Reds lefty reliever Sean Marshall finally cleared an important hurdle in his quest to return to the active roster.
On Tuesday afternoon, Marshall threw 22 pitches in a live batting practice session and came away with no issues. He has been on the disabled list since May 24 because of a sprained left shoulder. There have been setbacks along the way, including tendinitis suffered in July.
This time, it was all good, and Marshall said he felt strong.
"I felt like all the work I've put in so far is paying off," Marshall said. "I am trying to keep climbing up, keep getting better and stronger and see what the next step is."
Marshall threw his two-seam fastball, sliders and curveballs. He alternated facing Henry Rodriguez and Corky Miller. Rodriguez batted both left-handed and right-handed.
"I took it as a real game situation," Marshall said. "I envisioned myself warming up with people in the crowd and it put me at game speed."
Reds manager Dusty Baker was watching the session from behind the cage and was satisfied with the results.
"He threw the ball pretty good," Baker said. "It was coming out of his hand pretty good. He had a good look on his face. A lot of times the face tells you if he feels pain or anything. He had a good day."
Although Marshall appears to be close to returning, it is unclear what the Reds' timetable for activating him is. After Tuesday, there are 16 games left in the season. As the team has gotten good contributions from others in his place, including fellow lefty Manny Parra, Marshall felt ready to jump in and accept any role he is given.
"I feel as close to game ready now than I have in a long time," Marshall said. "So I'm pushing forward. Whenever they're ready to say I'm back in there, I'll be very excited."
Reds starter Johnny Cueto, who faced hitters in live BP on Sunday, will have another session on Wednesday morning.
"Anything [Marshall] can give us, him and Cueto, at this point would be a big plus," Baker said.
Mark Sheldon is a reporter for MLB.com. Read his blog, Mark My Word, and follow him on Twitter @m_sheldon. This story was not subject to the approval of Major League Baseball or its clubs.