Reds making plans for Cueto's return
Reds making plans for Cueto's return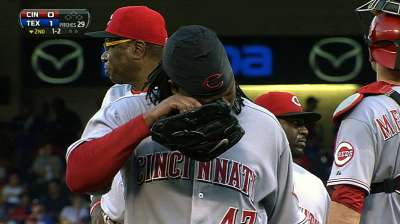 CINCINNATI -- Reds ace Johnny Cueto was scheduled to be examined by the medical staff on Monday, one day after throwing his first simulated game since going on the disabled list June 29. Even while Cueto was getting checked out, the team wants to determine when he might return and pitch in a real game.
"We're already figuring it out," Reds manager Dusty Baker said. "Everything depends on his body. It depends on our need. You don't want to force it in there. Even though he wants to force coming back, you don't want to end up with him coming back because he thinks he's ready and he ends up hurting his shoulder or something.
"It's just great to have him as a possibility."
Cueto has been on the DL three times this season because of a strained right lat muscle. His 30-pitch simulated game was viewed as a success, as it was pain free, but there will be at least one more before the Reds consider activation -- in what will likely be a bullpen role for the stretch run.
"We'll try to stretch him out to another inning," Baker said. "That was simulating two innings, which was not really a simulation. That's a pretty quick inning -- 15 pitches per inning. We'll stretch him out to 45 [pitches] and hope when he gets back in a game, he doesn't have 25-30 pitch innings, which can happen. He looked pretty good. He's going to have to reassess his health. The doctors are looking at him again today to see if he's the same. As long as he's the same, I'll be happy about it. As long as he's not any worse."
Mark Sheldon is a reporter for MLB.com. Read his blog, Mark My Word, and follow him on Twitter @m_sheldon. This story was not subject to the approval of Major League Baseball or its clubs.