Frazier didn't intend to mock Wilson
Frazier didn't intend to mock Wilson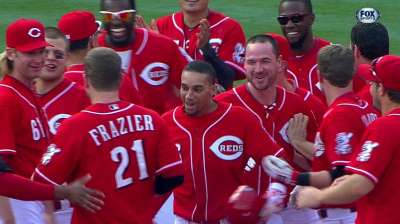 CINCINNATI -- Todd Frazier doesn't have any interest in showing up his opponents. But after delivering a walk-off single off Brian Wilson in Saturday's 10-inning win over the Dodgers, part of Frazier's celebration included crossing his arms to form an X, closely resembling what the Los Angeles reliever has done in the past after recording saves.
Frazier's celebration was caught by TV cameras, and he said on Sunday that he heard some people thought the move was directed at Wilson. However, he wanted to make it known that was not the case.
"It might have looked like it," Frazier said. "But me and [Reds left fielder Xavier Paul], we've got a thing going on where we also [cross our arms]. I guess my hands were in a certain way. I wasn't trying to mock anybody. That's the last thing I try to do."
Although Frazier was aware of Wilson's regular post-save celebration, he did not know the meaning behind it. When told that Wilson forms the X partly in honor of his late father and his Christian faith, Frazier said he never would have done it had he known.
"I had no clue about that," Frazier said. "I was going to talk to him. I don't know if he got the message or not. I wanted to square that up because I'm not that type of player. I'll try to talk to him during batting practice today."
Jeremy Warnemuende is an associate reporter for MLB.com. This story was not subject to the approval of Major League Baseball or its clubs.