Phillips back in Reds lineup after injury scare
Phillips back in Reds lineup after injury scare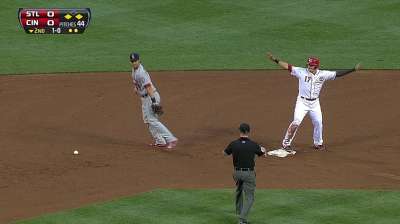 CINCINNATI -- Less than 24 hours after Brandon Phillips exited Thursday's win over the Cardinals with a contusion in his left quad, a relieved Dusty Baker put his second baseman back in the two-hole for Friday's series opener against the Dodgers.
"He's good to go," Baker said of Phillips. "He's got to play smart, and Brandon knows how to do that."
The injury came in the top of the sixth on Thursday when Matt Holliday slid into Phillips while he turned an inning-ending double play. Phillips remained at second for the top of the seventh, but he was replaced by Cesar Izturis before batting in the bottom half of the inning.
"When he hit my leg, it just pulled my leg all the way back, and I think I hyperextended it. That's what [the trainers] said," Phillips said. "I kind of tweaked the muscle in my quad. He didn't really hit me good or anything, it's just that he hit my back leg and hyperextended it.
"It's like a knot in my quad right now, but other than that, the more I just keep moving, it will loosen up."
Phillips said he talked with Baker about playing smart, which includes trying to avoid stopping too quickly in the field, as that's when he feels the most discomfort.
Along with Phillips, Reds catcher Devin Mesoraco was also in Friday's lineup, batting eighth. Mesoraco tweaked his left hamstring on Sunday in Colorado. Although Mesoraco started Monday's game, Baker held him out of the next three contests, though he did play three innings in Wednesday's 16-inning loss.
Baker described Mesoraco's status as "pretty good," but added that most players are dealing with some sort of injury as the season winds down.
"Anybody who's been on a championship team, you're going to play with some nagging injuries," Baker said. "At this time of year, if you're 100 percent, you haven't played very much."
Jeremy Warnemuende is a reporter for MLB.com. This story was not subject to the approval of Major League Baseball or its clubs.