Heisey capitalizes on limited playing time
Heisey capitalizes on limited playing time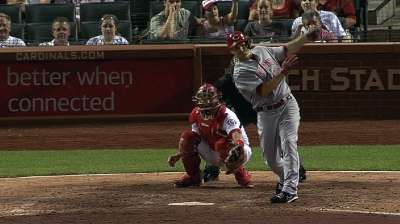 CINCINNATI -- When Ryan Ludwick injured his shoulder on Opening Day and eventually lost most of the season while recovering from surgery, the job in left field was Chris Heisey's for the taking.
However, Heisey responded by batting .173 (13-for-75) in his first 23 games of the season. Then he suffered a strained right hamstring in late April and missed almost two months of action.
Now, Ludwick is back and producing and Heisey is battling with Xavier Paul and Derrick Robinson for playing time. Fortunately, Reds manager Dusty Baker has started to see Heisey take better advantage of his opportunities, though they might not come as often.
"Like I said before, Heisey had plenty of chances to take that job," Baker said. "Now, he's back in a situation where he's performed well and probably reached a comfort level in that. Everybody wants to play every day, but some people are designed to do the role that they're in better."
In Heisey's first 32 games (19 starts) after returning from injury, he batted .241 with eight RBIs and three home runs. Since Ludwick returned, Heisey has played in 19 games, but only made seven starts, including Wednesday against the Cardinals. Despite that, he's been more effective than he had been all season, batting .417 with another eight RBIs and four homers in that stretch.
"He's playing a lot better," Baker said. "When he hurt himself, he had a chance to regroup, watch and see -- I told him to pay attention to which guys were hitting well and why, and he's done that."
Jeremy Warnemuende is an associate reporter for MLB.com. This story was not subject to the approval of Major League Baseball or its clubs.