Looking for production, Reds move Phillips to two-hole
Looking for production, Reds move Phillips to two-hole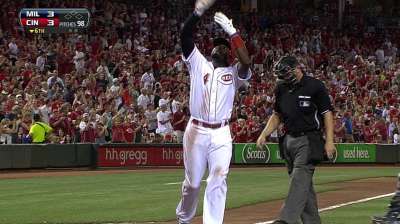 ST. LOUIS -- The Reds have been searching for production from the No. 2 spot in the lineup all season. Why not try Brandon Phillips, the guy originally slated to bat there?
Phillips was moved to cleanup after Ryan Ludwick's Opening Day shoulder injury sidelined him for four months and hasn't been back to the two-hole since. He was there Wednesday against the Cardinals, and Jay Bruce batted fourth behind Joey Votto. Ludwick was moved up from sixth to fifth.
"That was my original lineup from the beginning -- Brandon batting second -- trying to put more guys on base in front of Joey and Jay," Reds manager Dusty Baker said. "I talked to Brandon last night. Ordinarily, I don't like having two left-handers in a row. By the time we get to their 'pen, hopefully we'll have a lead and it might not matter as much."
Phillips, who entered the night third in the National League with 95 RBIs while batting .264 with 16 home runs, declined to comment when asked about the change in the lineup.
However, Phillips did publish a tweet that a change was coming following Tuesday's 6-1 loss and his office chat with Baker: "#WellAlright... After tonight's loss, it was that time to talk to POPS about changing my role! NEED NEW RESULTS ASAP! #ALLREADY."
"He asked me could he tweet it. I said, 'Go ahead, it's going to be news the next day anyway,'" Baker said.
Phillips has a .277 lifetime batting average with a .320 on-base percentage, 21 homers and 68 RBIs in 183 games batting second, though he's spent only one game there since 2011.
Bruce, normally the fifth hitter, has batted cleanup seven previous times this season.
"I don't really see it as any different, to be honest with you," Bruce said. "I will take the same consistent approach. I'm completely fine with it."
Baker has tried Zack Cozart, Derrick Robinson, Chris Heisey, and most recently Todd Frazier in the second spot. The team's .226 average there entering the night ranked 14th out of 15 NL teams. Their .273 on-base percentage in the two-hole ranked last in the Majors.
"It's not a decision that I make or anybody in this room makes," Bruce said of changing the lineup. "It's the guys in the front office. It's Dusty, first and foremost. He knows what he's doing. That's first and foremost."
Mark Sheldon is a reporter for MLB.com. Read his blog, Mark My Word, and follow him on Twitter @m_sheldon. This story was not subject to the approval of Major League Baseball or its clubs.