After 'pen session cut short, Cingrani may miss start
After 'pen session cut short, Cingrani may miss start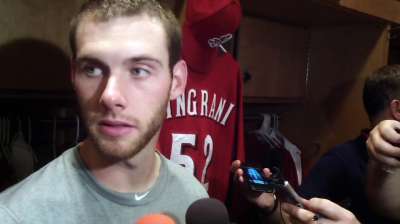 CINCINNATI -- Reds head trainer Paul Lessard stopped Tony Cingrani's bullpen session early on Friday, reducing the odds that the lefty's back injury will improve enough to let him make his next start on Sunday vs. the Brewers.
"It was just so-so, unfortunately," said Lessard. "Everything on flat ground was good. He threw off the mound, and it was just average. That means a lot of heads have to get together and figure out what we're going to do for Sunday, whether he's going to pitch or not."
Lessard stopped the bullpen session after Cingrani threw 12 pitches.
"He said it was still uncomfortable," Lessard said. "Why keep going if it's uncomfortable? I said, 'OK, we're done.'"
Cingrani strained his right lower back in Tuesday's start vs. the D-backs and came out after only 3 2/3 innings. At the time, he expressed optimism that he would be ready for his next start.
If the Reds decide Cingrani is unable to start, they could summon right-hander Greg Reynolds from Triple-A Louisville. Reynolds, who last pitched on Tuesday as well, is 12-3 with a 2.42 ERA this season for Louisville. He pitched once for the Reds in the second game of a doubleheader at San Francisco and allowed five runs and eight hits over five innings.
Mark Sheldon is a reporter for MLB.com. Read his blog, Mark My Word, and follow him on Twitter @m_sheldon. This story was not subject to the approval of Major League Baseball or its clubs.