Chapman's status unknown for rest of series
Chapman's status unknown for rest of series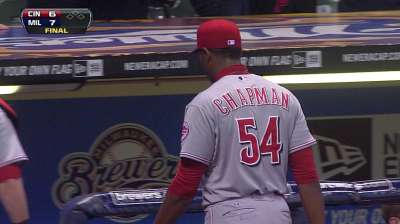 MILWAUKEE -- Reds manager Dusty Baker would not tip his hand Saturday on whether his closer, Aroldis Chapman, will be used in the last two games against the Brewers.
The left-hander has pitched five of the last six days and blew his fifth save of the season Friday night when Jonathan Lucroy hit a walk-off two-run home run off him in the Brewers' 7-6 win. Chapman was used three straight days from Aug. 11-13, then had an off-day before appearances in Cincinnati's first two games at Miller Park Thursday and Friday.
"That's what happens when you're a closer," Baker said. "You get a lot of work over a short period of time or you get very little work. We've monitored him and preserved him pretty well."
But will Chapman be used again against the Brewers in a save situation?
"To answer your question, I really can't tell you," Baker said. "How we use him is almost how we use all our relievers here. We try not to use them three days in a row. Sometimes you can't help it. Sometimes you've got to use a guy three days in a row."
Chapman previously pitched on three consecutive days once this season from April 14-16, but he threw just 36 pitches combined. He threw 41 pitches Aug. 11-13 and has totaled 32 pitches in his two outings in Milwaukee.
On Friday, Chapman's velocity was down 2-3 mph from Thursday, when he lit up the radar gun consistently over 100 mph.
"Well, he's no longer a secret," Baker said. "Guys are studying him. The longer you're around, you might have to come up with something a little different. Let's face it, this is the big leagues, man. You're not just going to keep getting these guys out over and over and over and over, unless you're Mariano Rivera.
"Other than the home runs, he's been very good. I mean, where would we be without Chapman? Don't forget now, most of the free world wanted us to make him a starter and then have [Jonathan] Broxton the closer and leave [Friday starter] Mike Leake by the wayside. I think most of us have forgotten about that. Where would we be without Leake as a starter, and where would we be without Chapman as the closer?"
Kevin Massoth is an associate reporter for MLB.com. This story was not subject to the approval of Major League Baseball or its clubs.