Strength tests upcoming for Cueto, Marshall
Strength tests upcoming for Cueto, Marshall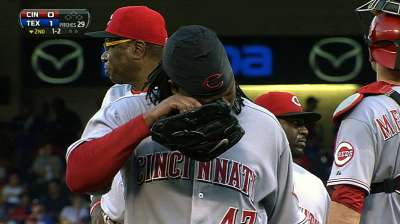 MILAWUKEE -- Reds head trainer Paul Lessard said on Thursday that the team is eyeing a strength test for injured pitchers Johnny Cueto and Sean Marshall by the end of its current road trip, which wraps up in Milwaukee on Sunday.
Cueto has been on the disabled list since June 29 with a strained right lat, and Marshall has been on the DL since May 24 with a sprained left shoulder. The results of their strength tests could determine whether they can start throwing programs.
"If all goes well, then they start throwing programs," Lessard said. "Knock on wood, that's what we're hoping to do when we get home."
Lessard said both Cueto and Marshall have responded well to the shoulder programs the Reds have them working on in Cincinnati.
"They've both done very well," he said. "The reports from the physical therapists that they're working with have said that they're working hard and the strengthening has gotten better. That's why we do the tests, to get a numerical reading on their strength."
Kevin Massoth is an associate reporter for MLB.com. This story was not subject to the approval of Major League Baseball or its clubs.