Choo continues to deliver in leadoff spot
Choo continues to deliver in leadoff spot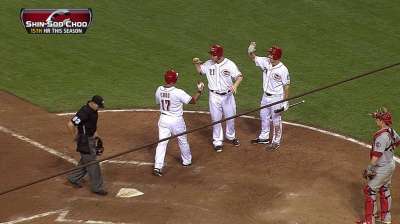 CINCINNATI -- Reds center fielder Shin-Soo Choo hit his 15th home run of the season on Saturday night, but it was his first with runners on base. That's often the way it goes for leadoff hitters, but manager Dusty Baker said Choo has made the most of the opportunities he's had to put runs on the board this season.
"If my leadoff man can have 50 RBIs and 100 runs at the end of the year, he's going to be very, very productive in our league," Baker said. "Choo's on pace to get that and more."
Entering Sunday with 35 RBIs and 73 runs scored, Choo is on track to drive in just barely more than 50 runs and score a shade under 110. With the limited chances he has had to bring runners home, Choo, who has more home runs than any other leadoff hitter this year, has done well. In 93 plate appearances with runners in scoring position before Sunday, Choo was batting .234 with eight doubles and 19 RBIs, and Baker said his numbers would be even better if he wasn't at the top of the lineup.
"He's one of our best hitters with runners in scoring position," Baker said. "It's just where he's hitting ... because the bottom of the order wasn't getting on for a while. It's better now."
Jeremy Warnemuende is an associate reporter for MLB.com. This story was not subject to the approval of Major League Baseball or its clubs.