Reds stand pat during Jocketty's quietest Deadline
Reds stand pat during Jocketty's quietest Deadline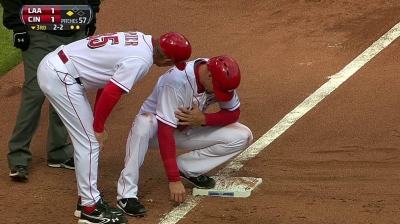 SAN DIEGO -- The non-waiver Trade Deadline came and went Wednesday for the Reds like it did for much of baseball, with no deals being made.
The primary need, a right-handed bat, was not added to Cincinnati's roster, nor was any pitching.
"Today was completely dead -- nothing," Reds general manager Walt Jocketty said. "This was the quietest Trade Deadline day I've had. It started to pick up the last few days like it always does. [Tuesday] was very busy. But in the end, the guys we wanted weren't available and didn't get traded."
Jocketty would not identify the players the Reds targeted, but it appeared the club had at least inquired on outfielder Hunter Pence and lefty reliever Javier Lopez from the Giants, and Cubs lefty reliever James Russell.
The asking prices in return were prohibitive throughout.
Even though the offense has been in a major funk in recent days, Jocketty wasn't highly pressured to make a trade. That's because the Reds remain confident they will soon have Ryan Ludwick back. Ludwick, who has been out with a shoulder injury since Opening Day, is on a rehab assignment.
In the end, the club felt there was no one on the market that was better than the players currently on the disabled list -- Ludwick, Johnny Cueto, and relievers Jonathan Broxton and Sean Marshall.
"We were looking at trying to upgrade the offense any way we could," Jocketty said. "We're waiting to get Ludwick back. He'll be back in a week to 10 days, two weeks, whatever it is. We were just seeing who could help now. There weren't any significant pieces out there available.
"We looked at bullpen pieces in case -- through the whole process, not just the last few days -- not knowing until recently about Marshall and Broxton. Marshall will probably be back in a few weeks. We checked on a lot of guys who weren't traded."
Now that the non-waiver Trade Deadline has passed, deals involving players on the 40-man roster cannot be made unless the players already have cleared waivers. That means the player must be offered to the other teams in reverse order of the standings, and if he is claimed by one of the teams, he cannot be traded.
The club that placed the player on waivers can either withdraw the request and keep the player, or let the player go to the claiming team, which would then have the rights to the player.
"We'll see if things pick up after Aug. 1," Jocketty said.
Mark Sheldon is a reporter for MLB.com. Read his blog, Mark My Word, and follow him on Twitter @m_sheldon. This story was not subject to the approval of Major League Baseball or its clubs.