Baker scratches head at mistakes on basepaths
Baker scratches head at mistakes on basepaths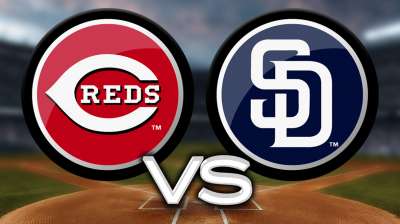 SAN DIEGO -- The Reds' offense has been in a deep funk during the latter half of the team's West Coast road trip, which wraps up Wednesday against the Padres. But there have also been mental mistakes on the bases. Asked if his players were pressing to try to snap a five-game losing streak, Reds manager Dusty Baker addressed the issues Wednesday.
"They might be trying to do more than they are capable of doing," Baker said. "You still have to be smart about it. On this road trip, we've been tricked by the schoolyard play."
Shin-Soo Choo was fooled into returning to first base on a Joey Votto hit Thursday against the Dodgers and tagged out. On Tuesday against the Padres, Zack Cozart rounded too far from second base when the third baseman faked a throw to first on an infield hit by Devin Mesoraco and was caught for an out.
"You see that some of the pros can get tricked on the amateur plays," Baker said. "You don't understand it, but it happens. You don't like it. You're scratching your head sometimes that it happens."
Baker found himself thinking about the fans during the losing streak, namely a couple he met the other day.
"There's a girl and her husband the other night after the tough loss, I thought about her all game [Tuesday]," Baker said. "They've been to nine games this year and we've lost all of them. I promised her yesterday that we weren't going to lose that one. Her family is telling her not to go to any more games. Her family is blaming them. They followed us from Cincinnati to L.A. and to here."
Mark Sheldon is a reporter for MLB.com. Read his blog, Mark My Word, and follow him on Twitter @m_sheldon. This story was not subject to the approval of Major League Baseball or its clubs.