Despite Korea Day in LA, Choo sits for finale
Despite Korea Day in LA, Choo sits for finale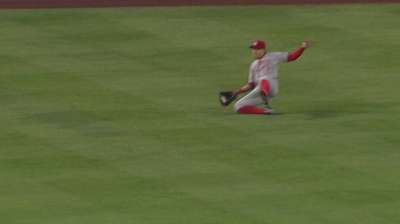 LOS ANGELES -- Reds manager Dusty Baker was aware that the Dodgers were hosting Korea Day Sunday at Dodger Stadium, but also knew he needed to make what could be an unpopular decision for the fans.
Baker gave his center fielder, and South Korean star, Shin-Soo Choo a day off from the starting lineup. Derrick Robinson took Choo's place in the leadoff spot and played center. It was Choo's first time out of the lineup since June 16.
"I hate to give it to him on Korea Day," Baker said. "If I had to choose between yesterday and today, everybody would have hung me yesterday. It might get me in hot water today."
In Saturday's 4-1 loss, Choo faced fellow South Korean pitcher Hyun-Jin Ryu and went 0-for-3 with a walk.
Choo has been in high demand during the road trip due to the large South Korean populations in San Francisco and Los Angeles. He's held several press conferences with South Korean media and has been sought out for autographs and photos at local restaurants.
"This has been a tough trip on him. His parents are here and don't speak English. His family is here," Baker said. "We're a routine-type of players. You're used to getting up at the same time, eating at the same time. He's so accommodating that it breaks the routine and he's tired. He's accommodating with interviews. I don't know what he's doing off the field. He's the first one to the ballpark. I don't know when he sleeps. He's here working. It's hard for me to beat him here and I'm usually one of the first ones here."
Choo entered Sunday 5-for-26 on the road trip and batting .285 with 14 home runs and 33 RBIs. His 20-game on-base streak ended on Friday.
"He didn't fight me for a change," Baker said. "Usually, he kind of fights you. I think he was almost relieved I made the decision for him, because he wasn't going to say anything."
Mark Sheldon is a reporter for MLB.com. Read his blog, Mark My Word, and follow him on Twitter @m_sheldon. This story was not subject to the approval of Major League Baseball or its clubs.