Hanigan should return to Reds on Thursday
Hanigan should return to Reds on Thursday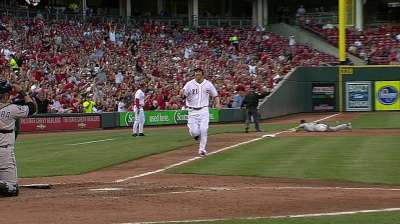 SAN FRANCISCO -- Catcher Ryan Hanigan, on the disabled list since July 11 because of an injured left wrist, is still on track to return to the Reds when he becomes eligible to do so on Thursday.
"He's doing very well," Reds athletic trainer Paul Lessard said. "His catching with the left hand, and moving the glove has been fine. It's just the velocity of his swing and the force on his hand, which is kind of in question."
Hanigan restrained from swinging a bat for a week so he could heal, but Lessard said he should be ready to get back into action.
Sean Marshall, meanwhile, will throw again Tuesday as he continues rehabbing from a left shoulder injury. The left-hander threw from 60-75 feat on Monday for about 15 minutes, but he still has a ways to go.
"He's not ready to get back on the mound, by any stretch of the imagination," Lessard said.
Johnathan Broxton threw a bullpen session Monday as well and will throw a third on Wednesday. Monday's outing lasted 30 pitches and included fastballs and breaking balls, which is encouraging because he wouldn't be throwing breaking balls unless his fastballs were of a certain quality.
Jeff Kirshman is an associate reporter for MLB.com. This story was not subject to the approval of Major League Baseball or its clubs.