Berry back coaching third base after illness
Berry back coaching third base after illness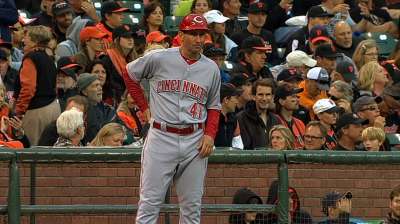 SAN FRANCISCO -- Reds third-base coach Mark Berry made his first appearance of the season in the third-base coach's box Monday following treatment for throat cancer.
Berry was diagnosed in March and treated at University of Cincinnati Medical Center. He completed a seven-week program of chemotherapy and radiation in May.
Bench coach Chris Speier had filled in for Berry during the first 98 games of the season.
"I told him, 'Hey man, where have you been all this time?" Reds manager Dusty Baker, a prostate cancer survivor, said jokingly after Cincinnati put 11 runs on the board Monday. "We're glad to have him back."
Berry is in his 30th season in the Reds organization as a player, coach or manager, and he is in his 15th consecutive season on the big league coaching staff. The longest-tenured member of the staff, he has spent the past 10 seasons as the club's third-base coach.
Andrew Owens is an associate reporter for MLB.com. Follow him on Twitter @OwensAndrew. This story was not subject to the approval of Major League Baseball or its clubs.