Baker comments on Braun's suspension
Baker comments on Braun's suspension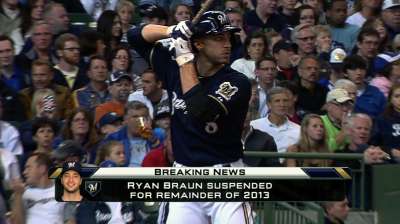 SAN FRANCISCO -- As the Reds pursue a postseason berth in their 64 remaining games, they will see the Brewers 10 times. Ryan Braun won't be involved in any of those games after Major League Baseball suspended him for the remainder of the season for violating the Joint Drug Prevention and Treatment Program.
"We hate to see it happen, but we thought it was over the last time," Reds manager Dusty Baker said. "Hopefully this is the end of it and hopefully we never see this again. It's a sad situation."
Baker said the club takes no solace in the news that a player who has tormented Reds pitching to the tune of 22 home runs and 50 RBIs in 88 career games has been suspended.
"It's not pleasant talk," Baker said. "This gives an example to the kids. I think it's come to fruition that it's a big disadvantage [to use performance-enhancing drugs].
"Some of the guys are making money by doing it and some of the good guys felt the need to do bad things to keep up. Evidently it didn't stop."
Baker said the recurring issue has led to some uncomfortable conversations with his son.
"We see a lot of messages on TV about [body] parts falling off," he said. "My son has asked me, 'Dad, is everybody on that?' I've told him, 'He's not, he's not and he's not,' and then their names come up."
Andrew Owens is an associate reporter for MLB.com. Follow him on Twitter @OwensAndrew. This story was not subject to the approval of Major League Baseball or its clubs.