Marshall getting close to return to throwing
Marshall getting close to return to throwing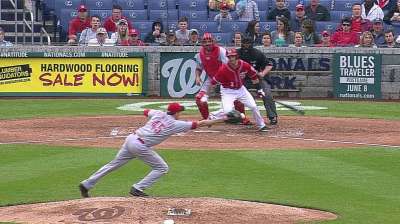 SAN FRANCISCO -- Reds left-handed setup man Sean Marshall is expected to resume a throwing session any day after a recent setback delayed his comeback from the disabled list.
Marshall, who has been on the DL since May 24 with a sprained left shoulder, experienced tendinitis toward the end of a bullpen session July 14 and has not thrown since.
"It was a small setback," manager Dusty Baker said. "Any setback takes you a week or so from where you were."
The Reds have also been without right-handed setup man Jonathan Broxton, who has been on the DL since June 15 with a sore elbow. Broxton, however, is much closer to a return than Marshall.
Marshall owns a 2.57 ERA and 0.86 WHIP (walks and hits per inning pitched) out of Cincinnati's bullpen, and Baker said the club needs its relievers to return as quickly as possible.
"The remaining games are getting fewer and fewer," Baker said.
Andrew Owens is an associate reporter for MLB.com. Follow him on Twitter @OwensAndrew. This story was not subject to the approval of Major League Baseball or its clubs.