Reds' catchers ailing, but gutting it out for team
Reds' catchers ailing, but gutting it out for team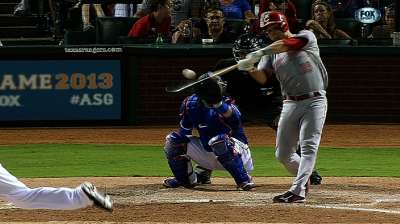 MILWAUKEE -- Despite being bothered by back spasms that kept him out on Tuesday, Devin Mesoraco was the catcher for Reds starter Mike Leake on Wednesday against the Brewers.
"Mes said he was OK, and he usually catches Leake," Reds manager Dusty Baker said before the 6-2 win over the Brewers in which Mesoraco had a sacrifice fly and threw out a runner trying to steal second. "They've worked pretty well together. He got here early for treatment like you're supposed to do. When you get here as early as he did, it shows you might be ready or are trying to get ready."
The catching situation is tenuous for the Reds because Ryan Hanigan has been dealing with a sore left wrist this week. Hanigan, who received a cortisone shot on Monday, caught for Tony Cingrani on Tuesday, and went 0-for-2 with a walk.
"I'm trying to do what I can to help the guys. I got a shot the day before. It's still pretty sore," Hanigan said. "I was trying to focus on defense, helping Cingrani and everything. It's like a MASH unit in here right now."
Often players will sit out a couple of days after getting a cortisone injection.
"We didn't really have the option with our team's situation," Hanigan said.
Hanigan has had a tough season with injuries. He was on the disabled list with both a strained left oblique and a sore right thumb from April 21-May 10.
"It's ridiculous. It's frustrating," Hanigan said. "But we've got a lot of season left, so I'll be trying to use the All-Star break to really mend up to make a good push to help the team in the second half."
Mark Sheldon is a reporter for MLB.com. Read his blog, Mark My Word, and follow him on Twitter @m_sheldon. This story was not subject to the approval of Major League Baseball or its clubs.