Ludwick progressing quickly in shoulder rehab
Ludwick progressing quickly in shoulder rehab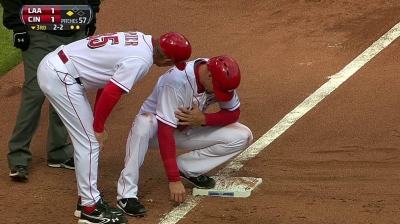 CINCINNATI -- Ryan Ludwick knows he likely won't be playing for the Reds until sometime in August. But after tearing the labrum in his right shoulder in the first game of the season, the injured outfielder was excited to report he's ahead of schedule in his recovery.
"I feel no pain in my shoulder, and I'm probably taking 85 percent effort swings," Ludwick said. "I was thoroughly surprised because every other surgery I've had, those first initial movements, whether it was the knee or the hip, you feel it. I haven't felt anything, which is a nice surprise."
Ludwick recently resumed baseball activities after originally being told that wouldn't happen until the All-Star break. With that, Ludwick said he'll soon be able to start a rehab assignment with either Triple-A Louisville or Double-A Pensacola. Although he'd like to return to the Reds as soon as possible, he understands the club will want him to acclimate himself in the Minors.
"When you have that much time off, you've go to go," Ludwick said. "It'll probably be an extended one, too, 50 at-bats or so. It'll be like Spring Training in July."
Jeremy Warnemuende is an associate reporter for MLB.com. This story was not subject to the approval of Major League Baseball or its clubs.