Reds' finale against Giants washed out
Reds' finale against Giants washed out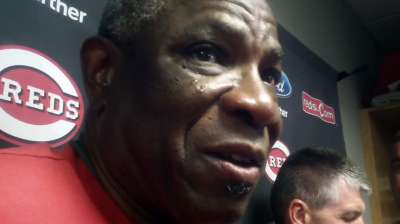 CINCINNATI -- The Reds have been fortunate this season as far as weather goes. Once in April, Cincinnati had to finish a game against Philadelphia the day after it was postponed in the middle of the ninth, and then there was Monday's game against the Giants that was called after six innings because of rain.
Manager Dusty Baker was hoping that luck would continue Thursday, but that wasn't the case, as the series finale against the Giants was called off before it had a chance to start. The game was delayed for two hours and 21 minutes, and it has not been rescheduled yet.
With Thursday's scheduled starter Mike Leake entering the day with a 5-1 record and 1.31 ERA in his last nine starts, Baker wanted to avoid a rainout to keep the 25-year-old right-hander on his regular routine. Instead, he'll get an extra day's rest, as the rotation will simply be pushed backed one day.
"They're doing pretty good, all of them," Baker said. "It won't hurt them a day."
The biggest problem facing Baker and the Reds in regards to Thursday's rainout is finding a day to reschedule the game.
"We've been kicking it around and kicking it around," Baker said. "The possible dates aren't optimal. I mean, there are none. There's only one date where we're both off."
That off-day comes Aug. 29, between three-game sets in St. Louis and Colorado for the Reds. It's also their only break in a stretch of 33 games in 34 days. The off-day is also sandwiched between two road series for the Giants -- in Colorado and Arizona -- as they also play 33 games in 34 days.
With that, the most viable option to play the game would be Sept. 30, the day after the last game of the season.
"That's that unbalanced schedule," Baker said. "They only come one time. As luck would have it, it's the last day."
Thursday marked the seventh rainout in the 11-year history of Great American Ball Park, with the most recent one coming May 1 last season against the Cubs.
Fans have been advised to keep their tickets, as they will be good for the rescheduled game. The tickets can also be exchanged at face value for any Monday through Thursday regular-season game, excluding Aug. 6.
Jeremy Warnemuende is an associate reporter for MLB.com. This story was not subject to the approval of Major League Baseball or its clubs.