Heisey back in left field after long layoff
Heisey back in left field after long layoff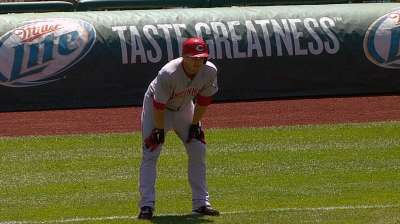 CINCINNATI -- Since coming off the disabled list June 25, Chris Heisey has started four games as the Reds' designated hitter during their road trip in Oakland and Texas. But on Wednesday at Great American Ball Park, he manned left field for the first time since April 27, when he sustained the right hamstring injury that kept him out of 52 games.
"I haven't been in left field during a game since my rehab assignment, so it's been over a week," Heisey said. "But when you've played out there for the last 10 years of your life, it's not too big of a deal to get back out there. I'm looking forward to getting out there and running around, though."
Heisey was on the DL with a strained right hamstring. Considering the nature of the injury, Reds manager Dusty Baker said Tuesday that he would be leery of using Heisey on a rainy day, as any wrong step or slip could tweak it. However, even with rain falling early Wednesday afternoon and chances of it continuing all night, Heisey remained in the starting lineup.
No matter the conditions, Heisey said he felt good and was completely over the injury physically. However, after having multiple rehab assignments delayed because his hamstring wouldn't cooperate, Heisey said he's still dealing with the mental part.
"Honestly, the entire rest of the season it's going to be in the back of my mind, just because of the setbacks I had after I did it the first time and never having a hamstring [injury] before this," Heisey said. "So it's on my mind, but at the same time, the further away I get from it, the more comfortable I'm feeling."
Jeremy Warnemuende is an associate reporter for MLB.com. This story was not subject to the approval of Major League Baseball or its clubs.