Choo's reviewed blast could be good sign
Choo's reviewed blast could be good sign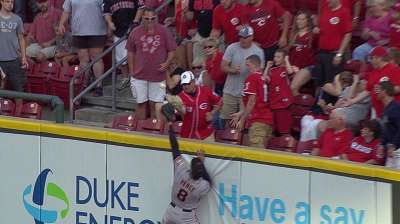 CINCINNATI -- Coming into Tuesday 4-for-31 (.129) over his last nine games, Shin-Soo Choo appeared to have broken out of his slump in a big way with a home run in his first at-bat against the Giants. Instead, thanks to an umpire review, he had to settle for his first double since July 14.
Leading off the bottom of the first, Choo took a 3-1 fastball from Tim Lincecum and sent it deep to right field. Hunter Pence jumped at the fence to make a play on the ball, which bounced off his glove and back into play. However, second-base umpire Fielden Culbreth ruled it a home run, as it originally appeared to bounce off a fan after Pence's deflection.
The umpires reviewed the play at the request of Giants manager Bruce Bochy and quickly overturned it, forcing Choo back to second with a ground-rule double. Two batters later, he came home on a Joey Votto sac fly.
Choo had been having a rough go of it at the plate lately, going hitless in seven of his last nine games. Dusty Baker gave his center fielder a day off on June 16 because he looked tired, but the Reds manager doesn't believe fatigue played a part in Choo's recent slide.
"He's hit some balls hard," Baker said. "If you look tired, you'd be tired in the outfield, too. ... Sometimes when you're not hitting, tired is a state of mind. Because if you're hitting a ton, you're not tired."
Playing in his first season in Cincinnati after spending most of the last seven years in Cleveland, Choo enjoyed a hot start, batting .300 with a .449 on-base percentage in his first 45 games. He hit nine of his 12 homers in that stretch while scoring 37 runs.
With Choo's average down to .264 before Tuesday's game, Baker suggested that the reason for the decline is that National League pitchers have learned how to attack him. Along with the 2013 season being Choo's first as a Red, it's his first outside of the American League, and Baker said that brings a lot of change.
"This game isn't that easy to think they're going to let you just kill the ball and see yourself in the paper," Baker said. "You have to make adjustments, and they'll make adjustments to you. That's what this whole thing is about."
Even with his recent struggles, Choo's 12 home runs and 54 walks led all Major League leadoff hitters at the start of play Tuesday. He also ranked second among NL leadoff men in RBIs (25), doubles (17) and extra-base hits (30).
"Mr. Choo's going to be all right," Baker said. "He's going to be fine."
Jeremy Warnemuende is an associate reporter for MLB.com. This story was not subject to the approval of Major League Baseball or its clubs.