Frazier focused on improving pitch selection
Frazier focused on improving pitch selection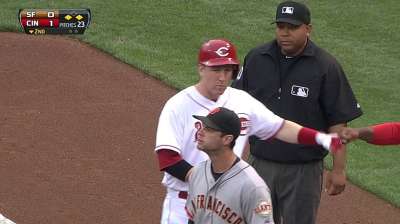 CINCINNATI -- Todd Frazier's ability to turn bad pitches into hits is something he prides himself on. Unfortunately for him, it's also the primary reason he went into Monday's game against the Giants batting .179 (12-for-67) in his last 20 games.
"For me, my pitch selection is pretty bad right now," Frazier said. "I've been working with the hitting coaches, understanding to look for a pitch but at the same time don't be too overly aggressive. I'm an aggressive swinger. I hit bad pitches well, so sometimes I get a little overzealous with that."
Frazier had been swinging the bat well before his slump, recording two hits in each of the first five games in June. Since then, though, he had 17 strikeouts before Monday. Most recently, Frazier went 3-for-24 on the Reds' eight-game road trip.
On Saturday against the Rangers, manager Dusty Baker took Frazier out of the lineup and replaced him with Jack Hannahan. Although Baker said that move was more about matchups than anything else, Frazier said it might have been good for him.
"You want to play every day, that's just the nature of playing ball," Frazier said. "But a day off kind of simmers you down a little bit. Maybe you'll get a pinch-hit and be able to help the team."
Frazier did get a pinch-hit opportunity, grounding out before being hit by a pitch and scoring a run in the Reds' 6-4 win in 11 innings. He went 1-for-4 on Sunday, but he said he thought he put together four good at-bats and hit the ball hard three times.
In Monday's rain-shortened, 8-1 win over the Giants, Frazier took another step in right direction when he delivered an RBI single in the bottom of the second. In the next inning, he connected on a three-run homer, matching his career high of four RBIs in one game.
"I've been working a lot on simplifying my swing and understanding that you don't need a lot more," Frazier said. "I don't wag my bat a lot, I cut down on that a little bit and focused on just getting the foot down and going. That was probably the biggest thing for me."
Jeremy Warnemuende is an associate reporter for MLB.com. This story was not subject to the approval of Major League Baseball or its clubs.