Broxton sent to 15-day DL; Villarreal recalled
Broxton sent to 15-day DL; Villarreal recalled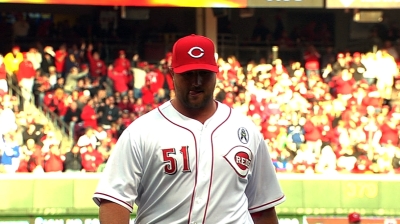 CINCINNATI -- After complaining of elbow soreness last week and being evaluated following the Reds' return from Chicago, Reds right-hander Jonathan Broxton has been placed on the 15-day disabled list, retroactive to Friday, with a flexor mass strain in his right elbow.
Although the last thing that Dusty Baker needed was to lose another reliever, the Reds manager said the injury tests came back as positive as he could have hoped.
"It actually turned out better than we thought," Baker said. "[Losing a reliever] was our worst fear, but at the same time, there's no structural damage and no ligament damage, which is a big plus."
Along with the strain, Baker said there's "inflammation in the joint."
Broxton has struggled this season, most recently blowing a save in Pittsburgh on June 2 before giving up the game-winning run in the 14th inning on Thursday. He's 0-for-3 in save opportunities with a 4.33 ERA.
Baker did everything he could to avoid using Broxton in the Reds' four-game series against the Cubs last week, while also not letting it leak that 28-year-old reliever was hurting. When the series finale on Thursday went into extra innings, he was forced to pitch Broxton for one inning, but not before doctors assured Baker that no further damage could be done.
"It couldn't get any worse," Baker said. "They didn't think it was structural then. If it was structural, we would have put him on the DL right away."
The best case scenario, according to Baker, is that Broxton could be ready to throw again in two or three days. But with the bullpen already taxed, he couldn't afford to just let Broxton heal without moving him to the DL. In a corresponding move, the Reds recalled right-hander Pedro Villarreal from Triple-A Louisville.
Villarreal struggled when he made a spot-start for Johnny Cueto on June 5, but he might not be in Cincinnati for too long. Baker hinted that Tony Cingrani, who's already on the 25-man roster after pitching in Cueto's place on Tuesday, might stick with the team to help out in the bullpen. In seven starts with Cueto on the DL, Cingrani has gone 3-0 with a 3.15 ERA.
Jeremy Warnemuende is an associate reporter for MLB.com. This story was not subject to the approval of Major League Baseball or its clubs.