Votto initially gets day off, but pinch-hits
Votto initially gets day off, but pinch-hits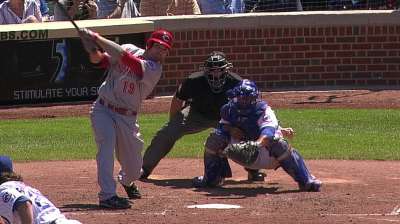 CINCINNATI -- For the first time this season, Reds first baseman Joey Votto was not in the starting lineup, as he was a spectator for Friday's series opener against the Brewers.
Along with starting each of the first 67 games, Votto exited early only four times, and manager Dusty Baker said it was time for a break.
"I've got a pretty good eye on when I think guys are wearing down," Baker said. "Most of the time, it's mental, [a break] from the day-in, day-out daily grind. I told him show up late, don't hit today. I'm trying not to use him unless the game is on the line."
Votto has had a big season thus far, hitting .319 with 11 home runs and 33 RBIs entering Friday. He's cooled off a bit of late, as his average was .340 at the end of May, but he's still hit safely in nine of 12 games this month.
Replacing the All-Star first baseman in the field in Friday's 4-3, 10-inning win was Jack Hannahan, who has come in to play first in three of the four games Votto did not complete. Hannahan went 0-for-3, but his sacrifice fly in the sixth gave the Reds a 3-2 lead. Votto pinch-hit in the ninth, and walked in his only at-bat.
Brandon Phillips, who usually bats cleanup, moved up to third and went 1-for-5 with an RBI single and Jay Bruce hit fourth and had the game's biggest hit -- a walk-off homer..
Baker said that Hank Aaron once told him players should get 10-12 days off a year, and he tries to do that with most of his guys.
"Not as much with Joey at first base, because, like I said, it's not as strenuous of a position as center field, catching or shortstop. [But] Joey carries a lot of weight here offensively."
Jeremy Warnemuende is an associate reporter for MLB.com. This story was not subject to the approval of Major League Baseball or its clubs.