Villarreal hit hard in first Major League start
Villarreal hit hard in first Major League start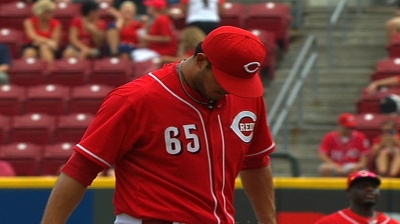 CINCINNATI -- With Johnny Cueto scratched from Wednesday's game and hitting the disabled list for the second time this season, the Reds called up right-hander Pedro Villarreal to make his first Major League start against the Rockies at Great American Ball Park.
The night did not go as Villarreal had hoped, as he gave up six earned runs on 10 hits, including three homers, in just 3 2/3 innings on the way to a 12-4 loss.
"The young kid got roughed up tonight and was throwing some balls up in the zone and in the heart of the plate," manager Dusty Baker said. "You do that against guys that can hit, you're asking for trouble."
Villarreal was called up from Triple-A Louisville, where he is 1-3 with a 5.03 ERA this season. He's also allowed 67 hits and 13 home runs in 59 innings at Triple-A. Villarreal was informed of the move on Tuesday, and he said he felt good heading into Wednesday's appearance.
"It was my day to pitch down in Louisville," Villarreal said. "Nothing was really different. I did the exact same thing down there yesterday, and then came up today and did the exact same thing."
With Cueto on the 15-day DL, Baker and his staff will need to fill in at least one more start in the place of their ace. Before Wednesday's game, Baker said that decision would depend largely on how Villarreal performed against Colorado.
The 25-year-old right-hander did not put himself in a good position to stick with the team, and he gave all the credit to the Rockies, who hit six home runs on the night.
"Obviously, they're a good ballclub," he said. "And they showed it today."
Jeremy Warnemuende is an associate reporter for MLB.com. This story was not subject to the approval of Major League Baseball or its clubs.