Heisey to begin rehab Friday with Louisville
Heisey to begin rehab Friday with Louisville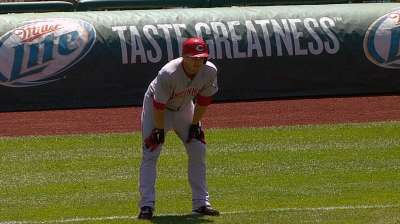 CINCINNATI -- Chris Heisey has been talking about how close he is to coming back from a strained right hamstring for more than a week. Finally, the 28-year-old left fielder has a definite plan in place.
Heisey will begin a rehab assignment on Friday in Louisville, where he hopes to put the nagging hamstring injury behind him. On the disabled list since April 29, Heisey attempted a Minor League rehab stint in May, but he agitated the same injury in just one inning of action.
"Hopefully it will go well," Heisey said. "I'm confident it will. I learned from last time. Looking back, I know I wasn't quite ready to go. I've had an extra week and a half this time, and that's going to be the difference."
Once he arrives in Louisville, Heisey said he will receive the same treatment as last time, but he feels much better this go-around. Although he couldn't say for sure how long he will remain with the Bats, he said it could be through next Tuesday, when the team plays its final game before heading out on a road trip.
"It's been over a month," Heisey said. "So it's good to get some at-bats and some time on the field under my belt."
Jeremy Warnemuende is an associate reporter for MLB.com. This story was not subject to the approval of Major League Baseball or its clubs.