Phillips glad forearm only bruised, not broken
Reds second baseman hit by pitch in Saturday's win against the Pirates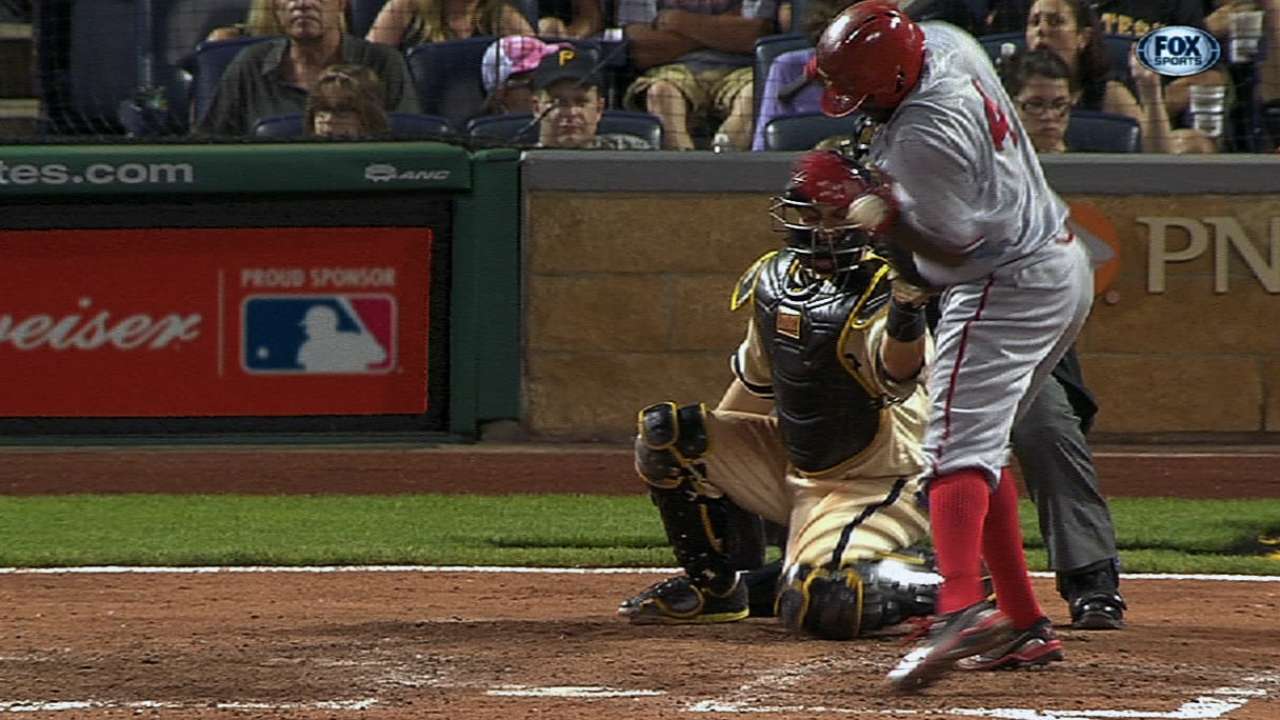 PITTSBURGH -- For the third time this week and second time in two games on Saturday, Reds second baseman Brandon Phillips was plunked by a pitch. On this occasion vs. the Pirates, it had lasting consequences as Phillips exited in the eighth inning of the Reds' 2-0 win with a left forearm contusion. X-rays were negative.
Phillips was struck on the arm by a 1-2 pitch from Pittsburgh lefty reliever Tony Watson.
"He got me good," Phillips said. "When he hit me, I thought it was broke for sure. That was the first thing that hit my mind. It made one of those sounds. I was like, 'Oh man, I think I might be done.' I can't really close my fist all the way."
Reds manager Dusty Baker expected Phillips to not play in Sunday's series finale, possibly longer.
"It might be a couple of days. One thing that saved him was the wristband," Baker said. "We're just lucky it's not broken. I asked [home-plate umpire John Hirschbeck] when I went out to change guys on the lineup card. He said it sounded like it hit bone, like it was plastic or something. I was just praying that he was OK. He's been getting hit a lot lately. It hit him pretty good. I don't know if he was trying to pitch inside or what was happening. You just don't want to see people get hurt."
Phillips declined to say that Watson intentionally threw at him.
"I had two strikes on me," Phillips said. "He tried to bust me in and maybe it was a good pitch. He just missed a spot and hit me. I don't really know. All I know is, I got hit and I had to go get an X-ray."
Shortly after he was hit by Pirates reliever Mike Zagurski's first pitch in the eighth inning on Friday, television cameras caught Phillips looking rather perturbed.
In the first inning of the Reds' 6-0 win, Cincinnati pitcher Johnny Cueto hit Pittsburgh star Andrew McCutchen with a pitch.
"It wasn't that I wanted to start something," Phillips said before Saturday's contest at PNC Park. "It was just that, you're getting hit on the first pitch, especially a lefty. I just looked and said, 'Come on, man. How many times am I going to get hit for something I didn't do?' If I did some stuff, it's different. If I get hit because of what other people do, it kind of [stinks] ... I'm the fall guy."
Judging by Zagurski's wild night of 56 pitches, four walks and three wild pitches in only 1 2/3 innings, it could be debatable about his intent with Phillips. But there was no doubt on Tuesday, when Indians starter Zach McAllister hit Phillips in the side with a 2-0 fastball. The previous day, Reds closer Aroldis Chapman had buzzed Nick Swisher with a 100 mph fastball near his head.
Reds teammate Shin-Soo Choo is the overwhelming leader in the Majors with 15 hit-by-pitches. But Choo crowds the plate, while Phillips does not. Phillips, who is second on the club with five hit-by-pitches this season, led the club last season with eight.
"It doesn't matter what I think. But all I know is, when our pitchers do something -- not intentional or intentional -- I'm the guy they go after," Phillips said. "That's what it's always been and that's how it is. I'm not saying what any of those teams have done was on purpose. But I am saying that when something happens, I feel like I'm the guy."
After Phillips was hit by McAllister, he calmly retrieved the ball and flipped it to the umpire before taking first base. Phillips looked a little longer at Zagurski upon being hit on the back of his leg before moving on. Phillips isn't worried about repeated plunking in the future.
"All I know is, I love playing this game. I'm going to keep on doing what I do," Phillips said. "If I show emotion, I show emotion. If I don't, I try to do it with my bat and do it with my play. I love my body. I don't want it to get banged up. Baseball is my career. I understand it's a game and things happen. But when things happen, I'm the guy they go after."
Mark Sheldon is a reporter for MLB.com. Read his blog, Mark My Word, and follow him on Twitter @m_sheldon. This story was not subject to the approval of Major League Baseball or its clubs.