Cleanup hitter Phillips raking in the RBIs
Second baseman has thrived as middle-of-the-order run producer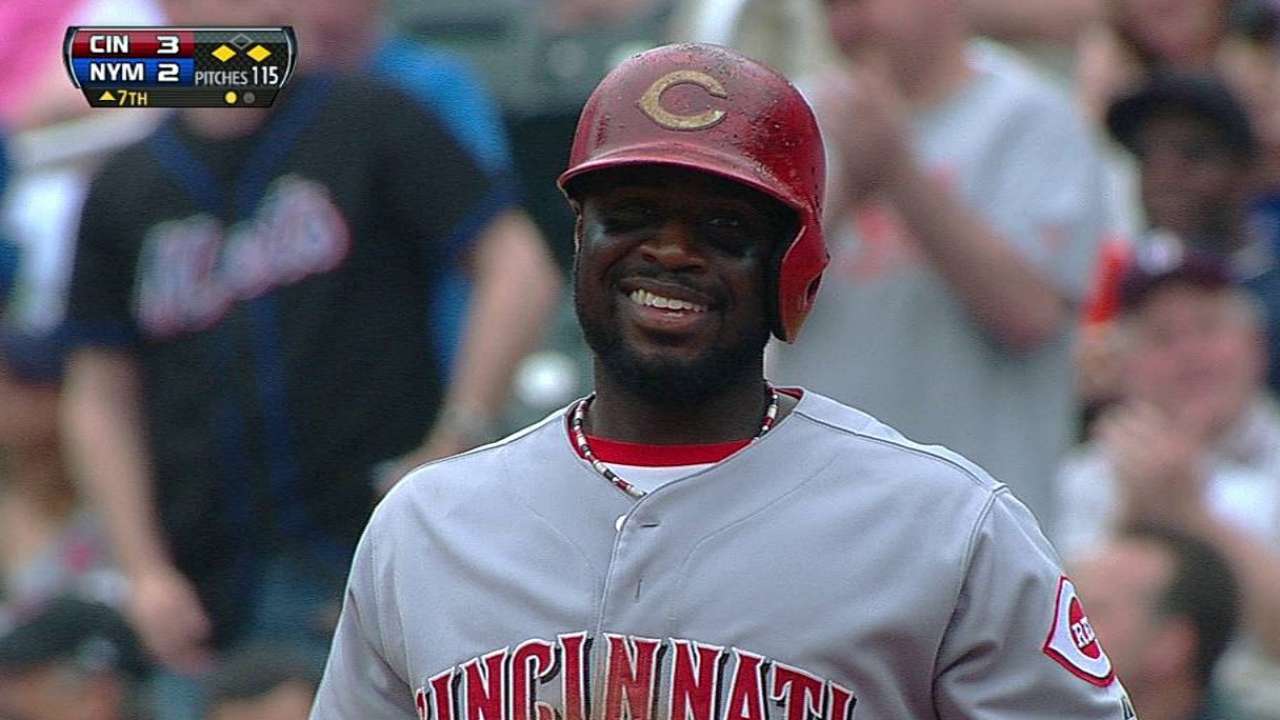 NEW YORK -- Reds second baseman Brandon Phillips has spent much time lately at or near the top of the National League leaderboard in RBIs. After two more in Wednesday's 7-4 victory over the Mets -- including the game-winning RBI double, albeit on a check swing -- Phillips leads the league with 40 RBIs.
Phillips doesn't fit the typical physical mold many look for in a cleanup hitter, but he's performed a key job required of the spot by driving in runs.
"You don't gain RBIs all at one time," Reds manager Dusty Baker said. "I was told it's like collecting pennies. The next thing you know, you get 100 and you have a dollar. We'll take them in bunches, but you'd rather have them consistent and on a regular basis."
Phillips' career high is 98 RBIs, set in 2009. He moved into the cleanup spot the second game of the season when left fielder Ryan Ludwick went down with a serious right shoulder injury. Ludwick isn't expected back before the All-Star break.
"He takes pride in driving in runs. He uses the whole field," Baker said of Phillips. "He gets upset if he leaves guys out there, especially if he leaves them with less than two outs and a guy on second base. That's how you're supposed to be. You want to be a clutch man. That's what he's been, a clutch man. Every good team, they have one or two clutch men."
Along with Joey Votto and Jay Bruce, Phillips has been one of the Reds' hottest hitters of late. He now has a season-high 10-game hitting streak (13-for-42) with one home run and nine RBIs.
Mark Sheldon is a reporter for MLB.com. Read his blog, Mark My Word, and follow him on Twitter @m_sheldon This story was not subject to the approval of Major League Baseball or its clubs.