Aroldis bounces back in opener with Mets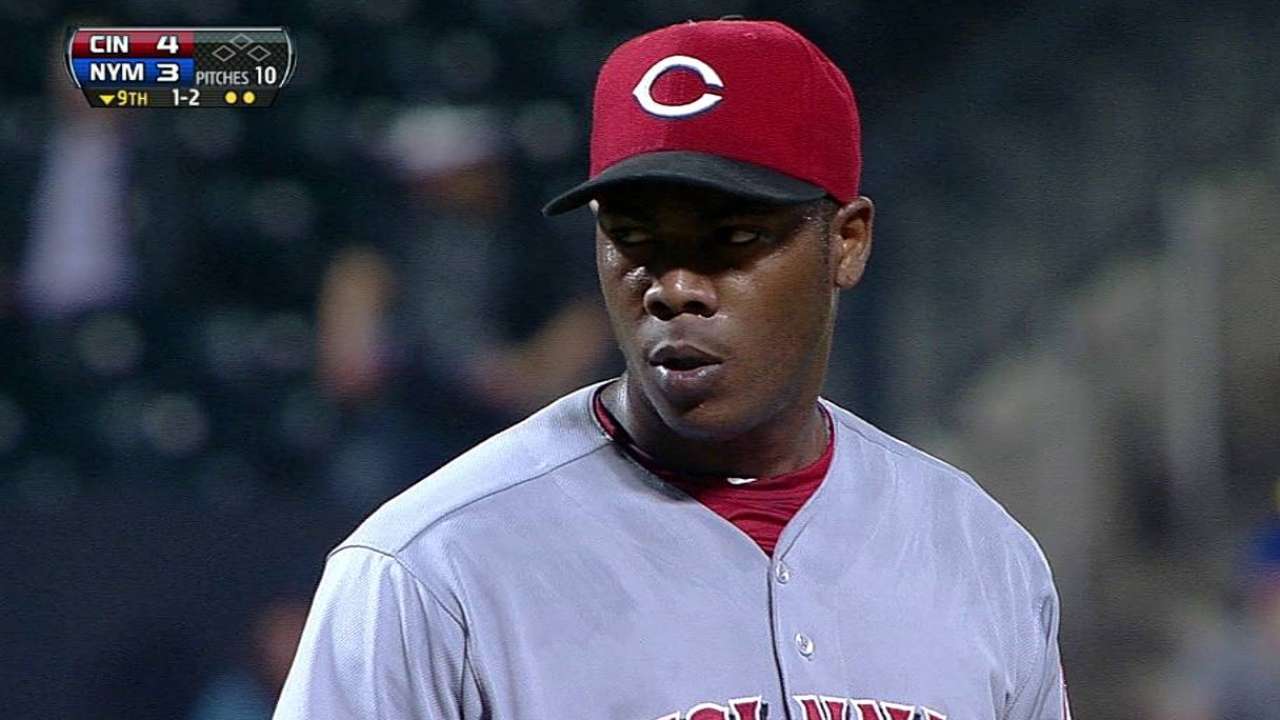 NEW YORK -- On the heels of Sunday's heartbreaking walk-off loss to the Phillies, in which he gave up back-to-back home runs in the bottom of the ninth, Aroldis Chapman returned strong vs. the Mets on Monday, earning his ninth save with a perfect ninth that included two strikeouts.
"I'm glad I put Chapman back out there," manager Dusty Baker said. "It's always important. You've got to get back on that horse and ride it right away, or else it festers and grows. You don't want that to happen."
In allowing the homers to Erik Kratz and Freddy Galvis on Sunday, Chapman blew his second straight save after having a one-run lead.
Baker compared the situation with that of May 7, when Devin Mesoraco and Shin-Soo Choo hit back-to-back homers for a walk-off win over the Braves' elite closer, Craig Kimbrel.
"You know, this is a funny game," Baker said of Chapman before Monday's game. "We're extremely happy when it happens to the other guy. Everybody was super-happy when it happened to Kimbrel. When it happened to us, everybody wants to know what's wrong and are looking for answers. Sometimes there are no answers."
Against the Mets, Chapman worked entirely from the stretch. He threw 11 pitches, and of his eight strikeouts, six were swings and misses. He reached 99 mph four times.
A bizarre story from CBSPhilly.com surfaced early Monday, with a Spanish-language reporter claiming that Chapman was ill during the Phillies game after devouring 18 Cuban pastries filled with cream cheese and guava after receiving them as a gift from the reporter.
Baker dismissed the story, however.
"That has nothing to do with what he did," he said. "Look at him -- does he look fat? I don't pay any attention to that. ... Sometimes that locker room is too open for everybody, which makes it too open for alibis and excuses if something happens."
Pastries or not, Chapman has struggled for much of this month. After having a 0.68 ERA in April, he entered Monday night with a 9.53 ERA in seven appearances with six earned runs, nine hits and six walks.
Mark Sheldon is a reporter for MLB.com. Read his blog, Mark My Word, and follow him on Twitter @m_sheldon. This story was not subject to the approval of Major League Baseball or its clubs.