Chapman uses slider to finish off rookie, Fish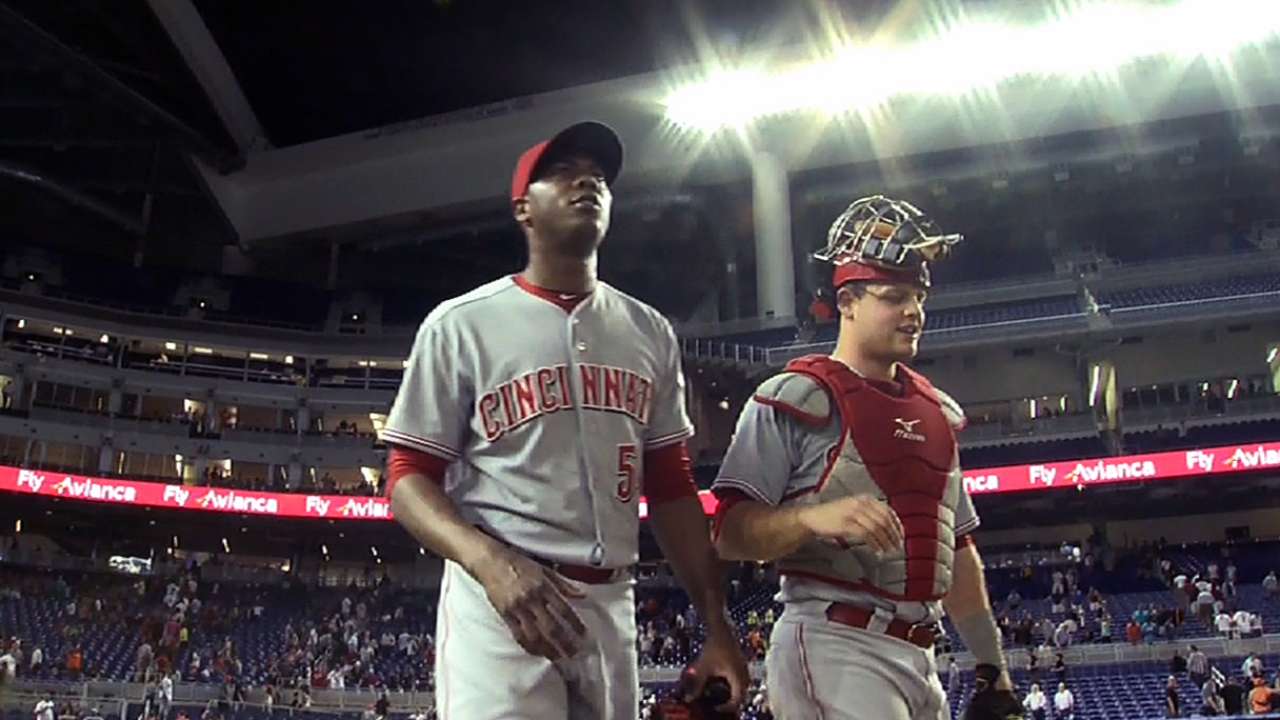 MIAMI -- Aroldis Chapman closed out the Marlins on Wednesday night, but the hard-throwing lefty had to work hard to get the final three outs.
It took 26 pitches for Chapman to get through the ninth inning in a non-save situation in Wednesday's 4-0 win over the Marlins. Two Marlins reached base in the ninth, but the most impressive feat may have come from rookie Derek Dietrich.
Playing in just his fifth game in the big leagues, Dietrich forced Chapman to throw 10 pitches, including seven that traveled at least 100 mph, before striking out to end the game.
"He looked great in that at-bat," Chapman said. "Showed a lot of fight and poise in that spot. It was definitely a good trip to the plate."
Chapman topped out at 102 mph before freezing Dietrich on an 87-mph slider. The Reds closer was hoping to fool Dietrich after the rookie fouled off seven fastballs.
"I had thrown him two sliders earlier, but they were out of the zone, so I went back to the fastball and he kept fighting it," Chapman said. "I decided to try and surprise him with a slider inside. I went for it and was fortunate to catch him off guard."
Dietrich has impressed Chapman and several others in the Cincinnati dugout this series. The rookie has collected four hits over the first two games of the series, and his battle with one of the best closers in baseball caught the eye of Reds manager Dusty Baker.
"Dietrich looks like a good hitter," Baker said following Wednesday's game. "He certainly wasn't intimidated by Chapman throwing 100. Chapman got the better of him tonight, but he fouled off some tough pitches up in the zone. Most people don't catch up to those. It was a very good at-bat."
David Villavicencio is a contributor to MLB.com. This story was not subject to the approval of Major League Baseball or its clubs.