Cueto returning to Reds' rotation on Monday
Ace goes five scoreless in Class A rehab start, will face Mets in New York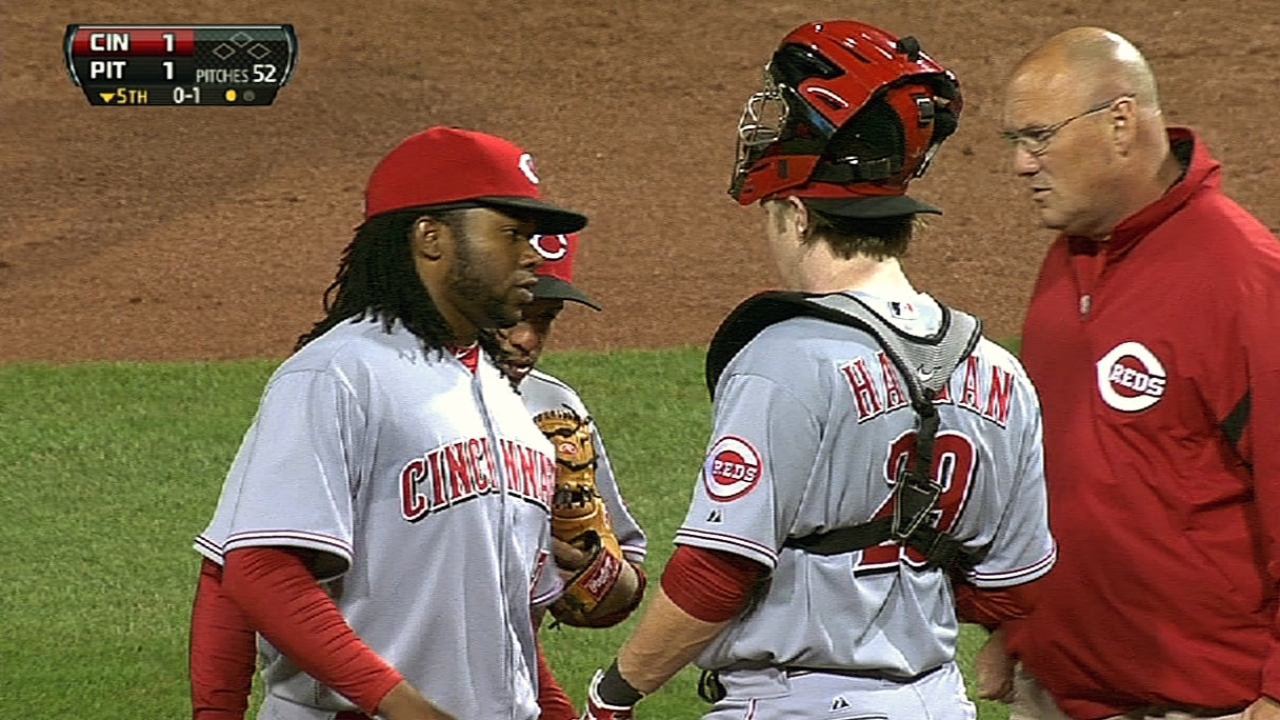 MIAMI -- Johnny Cueto is nearing his return to the big leagues.
The right-hander, who has been on the disabled list since April 15 with a strained right lat, will be back in the Reds' rotation on Monday night, when he faces the Mets in New York. Cueto's coming off a strong rehab start with Class A Dayton on Tuesday night in which he allowed just three hits over five scoreless innings.
Reds manager Dusty Baker expected a positive report from Cueto's latest rehab outing, and he was pleased to learn that his ace looked strong.
"We anticipated as such," Baker said prior to Wednesday night's 4-0 win over the Marlins. "We think he might be ready for New York City."
While the Reds starters have pitched well in Cueto's absence, Baker is eager to have his ace back in the rotation after playing without him for a month.
"It will be a big boost to get him back," Baker said. "The guy is a first-line pitcher for a reason. Everybody else is kind of a substitute. They've done a good job, but we need Johnny Cueto back. He's not only the best on our team, but one of the best in the league."
Cueto threw 58 pitches -- 39 for strikes -- while issuing no walks and striking out four members of the Tigers' Class A affiliate, the West Michigan Whitecaps, on Tuesday. The 27-year-old tossed another 23 pitches in the bullpen after exiting the game to bring his pitch count to 81 on the night.
Cueto will return to action five days from now on what would have been Mike Leake's regular day to start. But Baker insists that does not mean Leake has lost his spot in the Reds' rotation.
"Who is talking about keeping his spot?" Baker said following Leake's strong start against the Marlins on Wednesday. "He is doing better than some of the guys on our staff. I don't understand why it was coming down between he and anyone else anyway. Leake has pitched well. He's taken us deep into games."
Leake threw 6 2/3 scoreless innings on Wednesday to earn his third win of the year. It was the seventh time the right-hander pitched into the sixth inning in his eight starts this season.
Rookie lefty Tony Cingrani has been impressive while Cueto has been on the disabled list, going 2-0 with a 2.89 ERA in five starts. But Leake has been solid, amassing a 3-2 record to go with his 3.72 ERA.
Baker is not announcing his plans for the starting rotation yet, but the veteran manager believes people should not assume it will be Leake that will be left out of the quintet.
"It was his spot before anybody else came," Baker said. "You don't just give up on somebody like that."
So will it be Leake, Cingrani or another starter bowing out of the rotation?
"We'll worry about that when we get there," Baker said.
David Villavicencio is a contributor to MLB.com. This story was not subject to the approval of Major League Baseball or its clubs.