Reds reserve outfielders capitalizing on extra time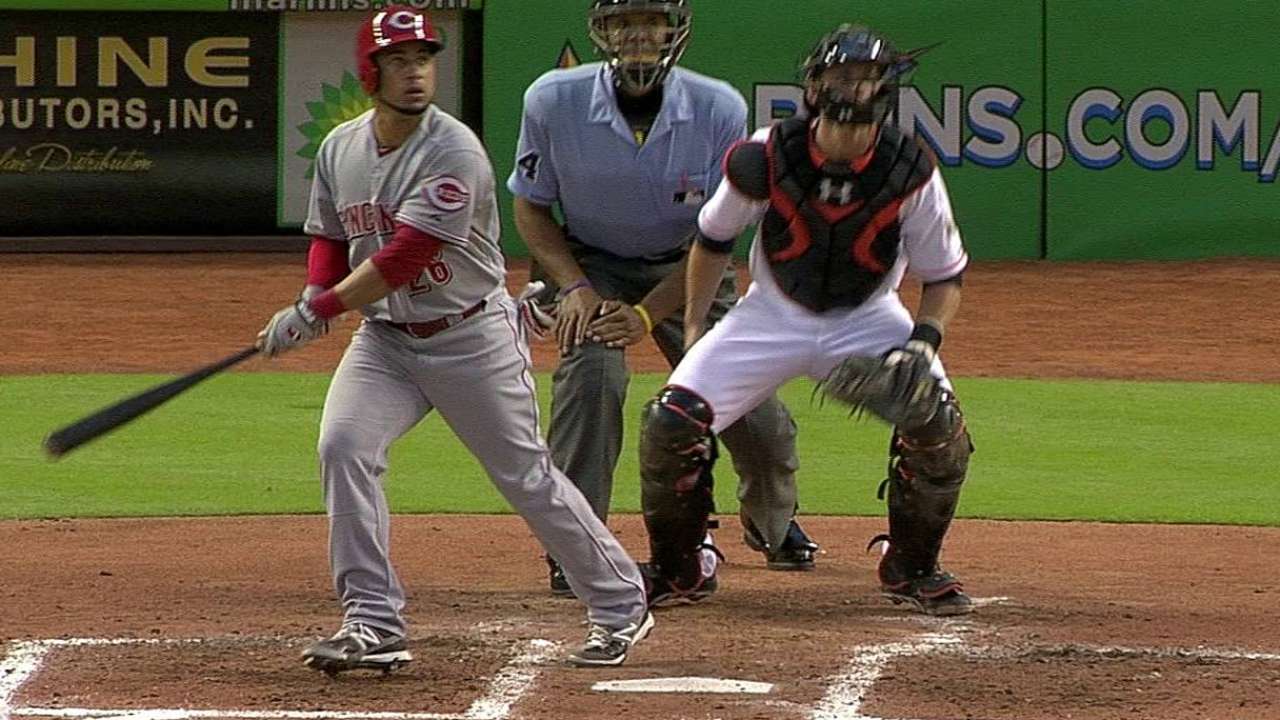 MIAMI -- Injuries have created opportunities in the Reds' outfield this season.
Manager Dusty Baker has been plugging a hole in left field since Ryan Ludwick tore cartilage in his right shoulder while sliding headfirst into third base during Cincinnati's season opener.
Veteran Chris Heisey was the first player tabbed to fill in for the injured Ludwick, and he played 20 games in left field before going on the disabled list with a right hamstring injury.
Heisey's injury gave five-year veteran Xavier Paul and rookies Derrick Robinson and Donald Lutz a chance to play more often, and the trio has responded with solid results.
Paul, Robinson and Lutz have combined to bat .276 over 72 at-bats on the year, helping the Reds stay competitive in the NL Central. Each player brings something different to Cincinnati's arsenal, and Paul feels the three complement each other well.
"D is a very versatile player," Paul said of Robinson. "He brings more speed to the outfield than anybody else we have, and plays really good defense. I've been swinging the bat pretty well as of late, and now we have Lutzy who can swing the bat and run. He's a pretty good player. I think the three of us will do a pretty good job of filling the hole we are missing with Luddy and Heis out."
On Tuesday night, Paul stepped up in a big way with two outs in the second inning. The 28-year-old hit a three-run double off Marlins starter Ricky Nolasco that put the Reds ahead by five runs in an eventual 6-2 Cincinnati victory.
"I just tried to take all the pressure off myself," Paul said. "The pressure was on Nolasco, because he had just walked in two runs. Then he went 2-0 with me and I knew he didn't want to walk in a third. He would rather see me put the ball in play and drive the runs in than walk in another one. I knew that when I was hitting, and we went 3-1 and I was looking for a ball I could drive and was fortunate to do it."
Paul, who is batting .270 with a pair of homers and 13 RBIs in 30 games this season, feels more comfortable at the plate now that he is playing more regularly. That is good news for Baker and the Reds after Heisey re-aggravated his hamstring injury during his rehab assignment on Monday night.
"I feel pretty good right now with my rhythm and my timing," Paul said. "It's been a little bit easier to keep good rhythm and good timing by playing more often. It's not always easy to come off the bench and pinch-hit. Sometimes you will have pinch-hit at-bats where the swing doesn't feel good and it feels like the pitcher is throwing 100 mph. But when you play more regularly, you get in a groove and everything starts to feel better at the plate. That's where I am right now."
David Villavicencio is a contributor to MLB.com. This story was not subject to the approval of Major League Baseball or its clubs.