Baker allows Reds to play in front of family, friends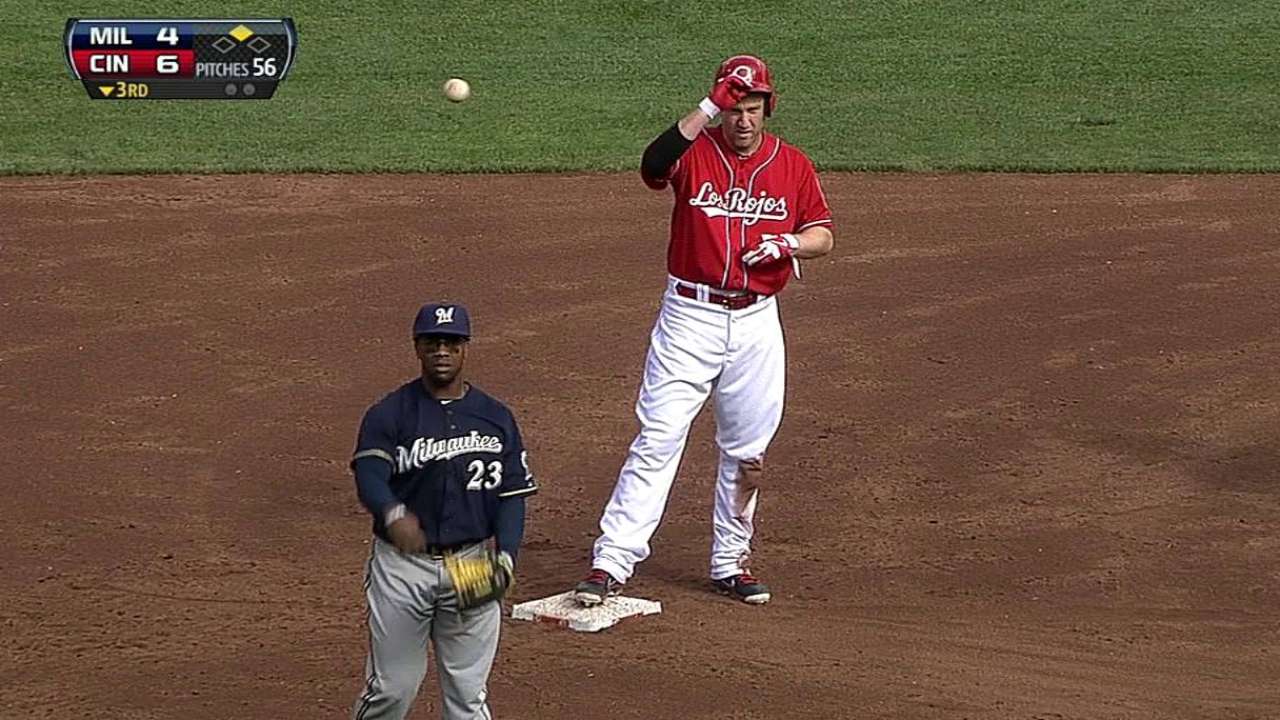 MIAMI -- One night after giving Jay Bruce a day off, Reds manager Dusty Baker chose to rest three other regulars.
Shortstop Zack Cozart, third baseman Todd Frazier and catcher Ryan Hanigan were all out of Wednesday's starting lineup. Baker hopes to get his players rest as they are in the first third of a nine-game road trip. But the veteran manager is also strategically selecting when to sit his players so they can play more days in front of family and friends.
Jack Hannahan started at third base for the Reds on Wednesday, partly because Baker took into account the fact that his regular third baseman is from New Jersey. The Reds will spend six of the nine days on this road trip playing in nearby Philadelphia and New York.
"This will let me play Frazier every day in New York in front of his homeboys and his parents," Baker said. "As someone who has played in front of his parents, I would choose to play in front of my parents if I could."
Baker also looked at the pitching matchups and felt it would be best to start Hannahan against Marlins right-hander Alex Sanabia on Wednesday and give Frazier the start in Thursday's finale against Miami's impressive rookie, Jose Fernandez.
"I had a choice to make between today and tomorrow," Baker said. "Tomorrow would be tough and it wouldn't be fair to put Hannahan out there against that guy. He hasn't been playing regularly, and the guy tomorrow has some nasty stuff. The one tonight is more Jack's speed."
Devin Mesoraco hails from Pennsylvania and will likely play multiple games against the Phillies by starting Wednesday. Had he played Thursday against the Marlins, he may have only been available to start once against the Phillies. Now Baker has the option to play the young catcher twice near his hometown, should he choose to.
Cozart is a Tennessee native, so this road trip does not put him near his family. But the rest on Wednesday will help keep him fresh for the final seven days of the trip. It will also give Cesar Izturis a chance to play in the city he calls home in the offseason.
"Izturis is playing tonight for the same reason," Baker said. "Cozart will rest tonight and be able to play more the rest of the trip, while Izzy lives down here and gets to play in front of his homeboys."
Baker's plan even came into effect with his starting rotation. While Flipping Mat Latos and Tony Cingrani was done primarily to give Cingrani extra rest for a sore left shoulder, it also allowed Latos, a Coconut Creek, Fla., native, to pitch in front of family and friends.
David Villavicencio is a contributor to MLB.com. This story was not subject to the approval of Major League Baseball or its clubs.