Chapman feeling comfortable in return to Miami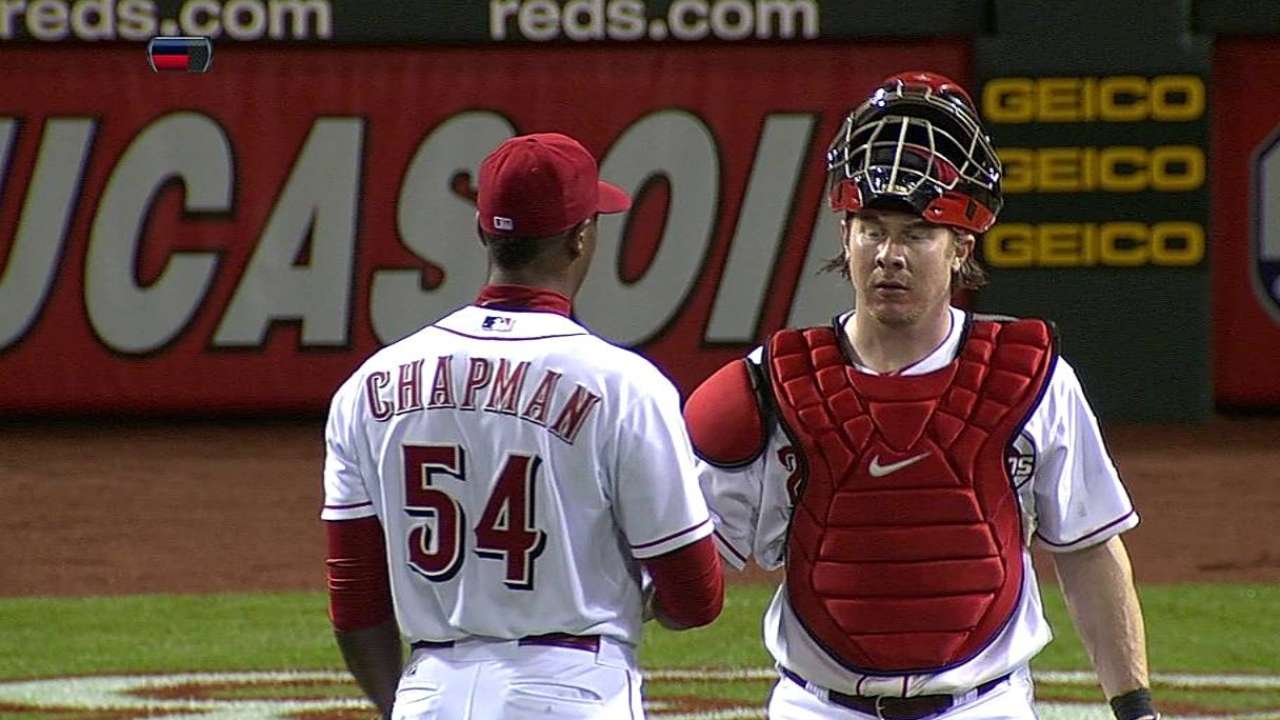 MIAMI -- Pitching in Miami is special for Reds closer Aroldis Chapman.
The Cuban defector enjoys playing in front of crowds filled with his fellow Cubans, and the lefty will have the opportunity to do that over the next three days.
"The first thing I look for every time the schedule comes out is when we play the Marlins in Miami," Chapman said.
Chapman, who tossed a third of an inning of scoreless relief at Sun Life Stadium in 2011, has not been able to play in front of his fellow countrymen as often as he would like. But the 25-year-old is excited about potentially taking the mound against the Marlins this series.
"I'm happy to have the opportunity to play here in Miami where there are so many Cuban fans," Chapman said. "It's great to know there are so many people like you in the stands."
Chapman makes his offseason home in Miami and is excited to have the opportunity to be home after leaving the city in February for Spring Training. He enjoys Miami's culture and nightlife, citing Mango's in South Beach as a favorite hangout.
Another thing Chapman enjoys about being in Miami is an opportunity to see fellow Cuban Adeiny Hechavarria. Chapman has known the Marlins shortstop since the two were young baseball players in Cuba.
"We know each other since we were kids in Cuba," Chapman said. "It's great to see him, especially since we have known each other for so long. I am older than he is, so we never played on the same team. But we have known each other since we were kids, so it's always good to catch up with him."
While Chapman looks forward to his annual trip to Miami, he is even more excited to be anchoring the Reds' bullpen. The left-hander entered Spring Training working as a starter, but ended up back in the bullpen by Opening Day.
"I am happy because that is what I wanted," Chapman said. "They wanted to see how it would work with me starting, but I am happy that I am closing games."
When he originally signed with the Reds, Chapman preferred to be a starter over a reliever because he had been a starter in Cuba. But that all changed after having a chance to pitch late in games over the past few seasons.
"Having the opportunity to close, I really got to know what it was like and I feel very comfortable closing," Chapman said. "I didn't want to pitch in relief at first because I had always been a starter. But now that I have had the chance to close for a couple of years, I really enjoy it."
Despite having a preference to close, Chapman believes his time spent working as a starter this spring helped him develop his secondary pitches. That is something the young flamethrower feels will make him a better pitcher now and in the future.
"I worked as a starter and that forced me to add pitches so that I could pitch more innings," Chapman said. "I work less now than if I was starting, but I have the other pitches to use if I need them. They are helpful now, but will be even more important later in my career if my velocity starts to go down a bit."
David Villavicencio is a contributor to MLB.com. This story was not subject to the approval of Major League Baseball or its clubs.