Hanigan passes pair of tests back behind plate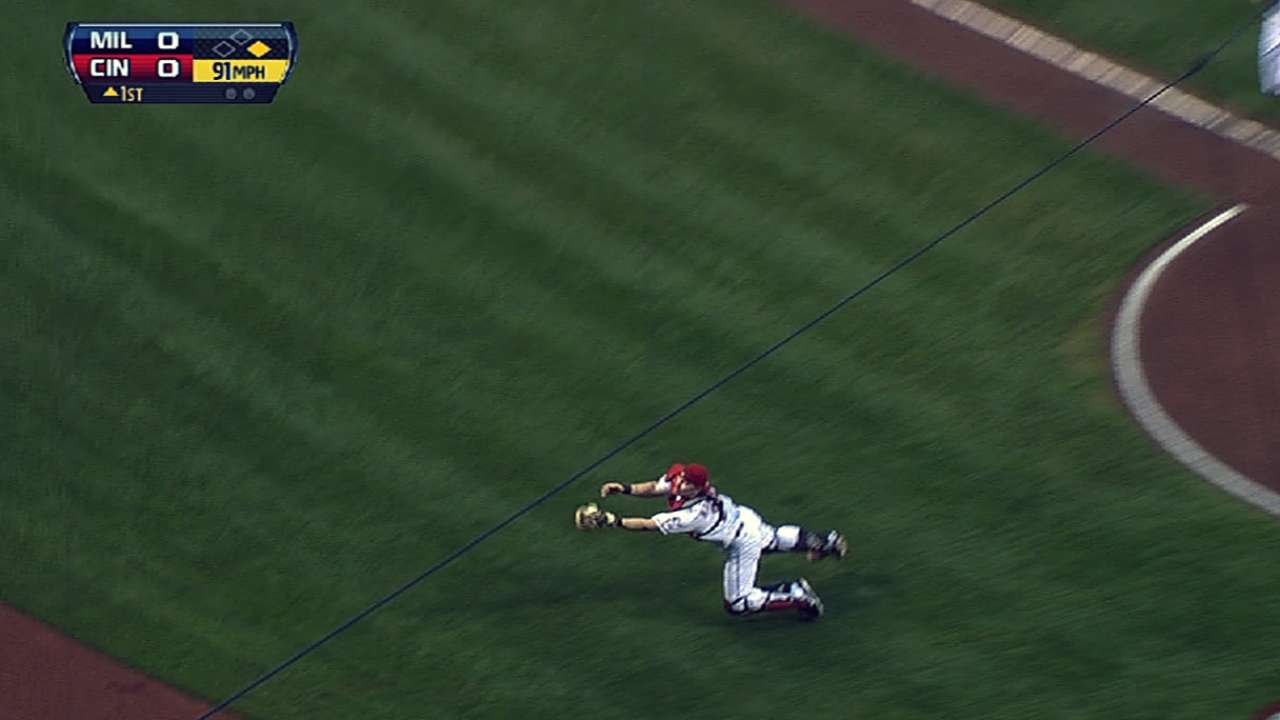 CINCINNATI -- Ryan Hanigan wasted no time Friday testing the strained left oblique that played a major part in his stint on the 15-day disabled list that began April 21.
Two batters into his first game back behind the plate for the Reds, Hanigan dove to catch a foul ball off the bat of Brewers shortstop Jean Segura. Fully extended, he made the play and stood up without any ill-effects.
"It was within my reach, apparently," Hanigan joked. "It was a fun play to get back in there the first game and have a play like that right out of the gate."
Manager Dusty Baker said he wasn't concerned when he saw the 32-year-old catcher lay out to make a play so quickly after returning from injury. Considering Hanigan's "full-speed, full-throttle" style, Baker said Friday night that he and his staff had to be careful in bringing Hanigan back, because plays like that are bound to happen.
"Most of the time off the DL, you're going to do something that's going to test you," Baker said. "That's the only way Hani knows how to play and that's why we wanted to make sure he was healthy when he got back."
Hanigan's stint on the DL was also in part due to a sore right thumb, but that too proved to be a non-issue Friday, as he notched a hard-hit single in his first trip to the plate. Baker said Hanigan was able to get on top of an 89-mph slider from Yovani Gallardo, and that's something he couldn't do when the thumb was bothering him.
Devin Mesoraco was behind the plate for the Reds on Saturday, but Hanigan said he believes the oblique and thumb injuries are behind him after Friday's game.
"Good start [to] get things going in the right direction," Hanigan said. "I feel better, so I think I'm going to have more of a chance now, and it's a lot more confident swing when you're not distracted by pain and stuff like that."
Jeremy Warnemuende is an associate reporter for MLB.com. This story was not subject to the approval of Major League Baseball or its clubs.