Reds react to scary Happ injury on comebacker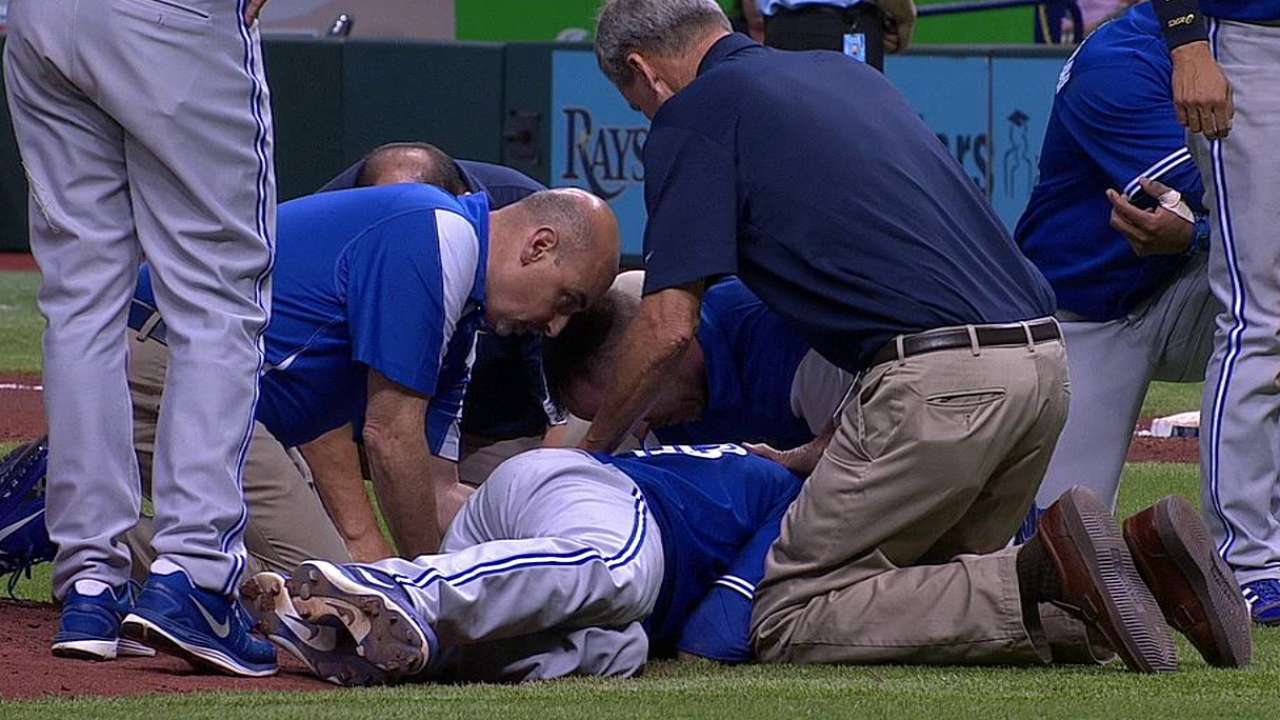 CINCINNATI -- By Wednesday morning, many in the Reds' clubhouse had already seen the frightening video of Blue Jays pitcher J.A. Happ being struck in the head and face by a line drive against the Rays.
Reds pitcher Bronson Arroyo recalled another incident from 2005, also against the Rays, when former Red Sox teammate Matt Clement was hit in the head by Carl Crawford. Clement was never the same.
"You go out there and hope you don't get hit in a place that will kill you or end your career," Arroyo said.
Arroyo took a line drive off of his pitching hand during Spring Training. While fortunate not to break any bones, the seams of the ball were left imprinted on his knuckle for several days.
"You tend to forget about it, but then you get smoked one time like I did in Spring Training," Arroyo said. "You just realize that at the end of the day, you probably can't do anything about it. The ball is back on you so fast. You watch so many instant replays and you think you might try to make a catch on a ball, and it's four feet past you already. It's definitely scary. To be honest, it's just impossible to pitch with that on your brain. Inevitably, all of us have the same amount of chance of that happening to us. There's really no way around it."
The Blue Jays said Happ suffered a head contusion and a lacerated left ear, and he spent the night in the hospital. He was released Wednesday morning.
"That might be the worst thing in baseball you want to see," Reds pitcher Homer Bailey said. "Any one of us who get on the mound could [get hit]. You don't even really like talking about it."
There has been discussion around the game of improving safeguards to protect pitchers from line drives. It picked up steam last year, when former A's pitcher Brandon McCarthy, now with the D-backs, suffered a fractured skull from a line drive.
"The game has been played a long time. This is the way it's been," Bailey said. "It's very unfortunate, but we still have to keep it our game. There's been a lot of evolution. Most of it is for the better. What does that happen, once every 10 years? I don't think we can go adjust the whole program just for extremely unfortunate instances like that."
Arroyo said he has seen some prototypes of head protection and other proposals for pitchers, but did not think much of them.
"Where Happ got hit yesterday in the face, nothing is going to protect him from that, other than a full-on helmet," Arroyo said. "It's going to be difficult to pitch with a freaking helmet on it. I don't think there's anything they can do about it. It's just the way it is. The only thing you could do is throw every pitch on the inner half, but then you become kind of predictable and it makes it tough to get anybody out."
Reds manager Dusty Baker said changing this part of the game is difficult, especially considering how both pitchers and hitters approach the game.
"We were taught to stay on the ball and try to hit it back up the middle," Baker said. "I was talking to Hank Aaron, and he used to tell me [Bob] Gibson and Don Newcombe particularly hated the ball being hit back up the middle. Most of the time, the balls hit back up the middle are low and away, where pitchers are taught to throw them most of the time -- mostly fastballs.
"It's part of the perils and dangers of the game. I hate to see it happen, but we play a dangerous game sometimes."
Mark Sheldon is a reporter for MLB.com. Read his blog, Mark My Word, and follow him on Twitter @m_sheldon. This story was not subject to the approval of Major League Baseball or its clubs.