Phillips exits Sunday game after outfield collision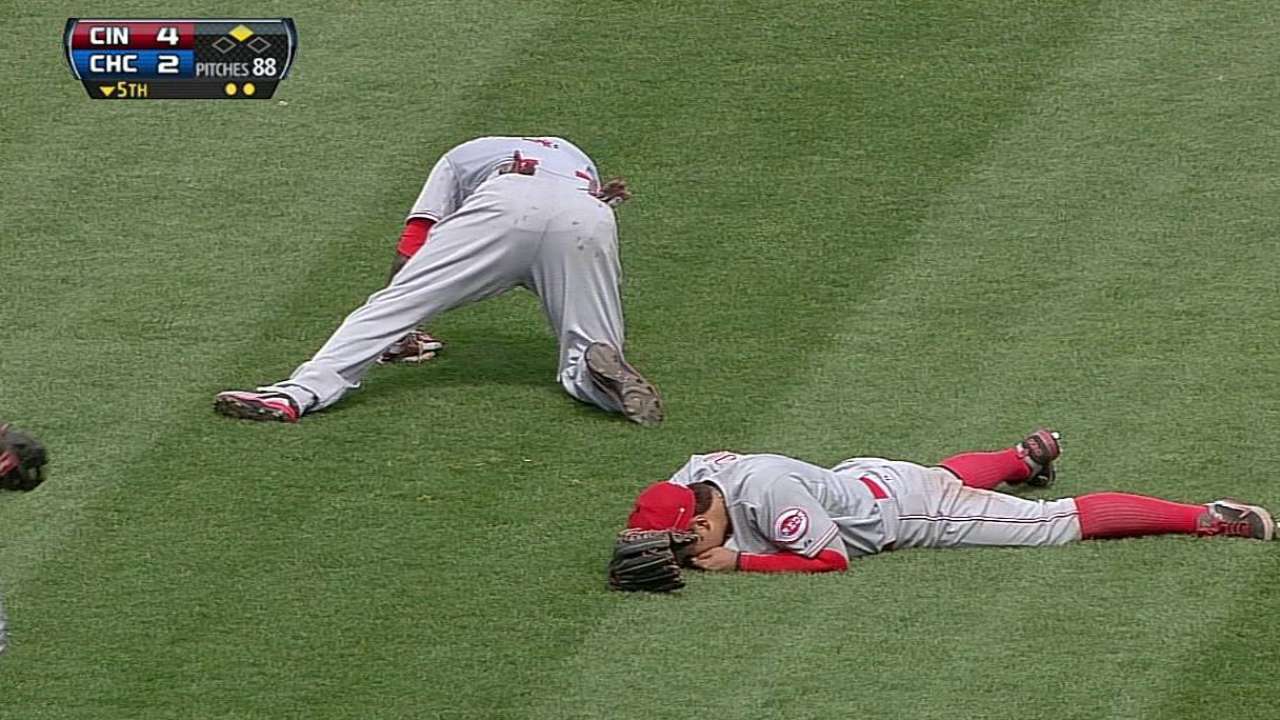 CHICAGO -- Reds second baseman Brandon Phillips and center fielder Shin-Soo Choo were involved in a fifth-inning outfield collision during Sunday's 7-4 win over the Cubs. While Choo appeared to come away with only a fat lip, Phillips exited in the eighth inning when manager Dusty Baker came out of the dugout and took him off of the field. Cesar Izturis replaced Phillips and quickly fielded a grounder.
"He couldn't see," Baker said of Phillips. "I took him out. He said he couldn't see that ball on the sacrifice fly that he hit [in the seventh]. When a guy says he can't see, especially with all the left-handed hitters coming up, the next play would have been to Brandon. We have to protect these guys. There's a long way to go. I think he's OK. We'll see."
When asked how he felt after the game, Phillips was quiet and somewhat elusive.
"I'm living," Phillips said. "Whatever Dusty says, that's what happened."
In the fifth, following back-to-back singles against Mat Latos, Alfonso Soriano hit a fly to shallow center field. Choo came running in for the ball as Phillips backpedaled before the two collided. The ball skipped off of Phillips' glove and hit Choo's face for what was ruled a two-run double.
"It looked ugly there, but this wind plays havoc with the ball," Baker said. "I saw Choo break back, and I knew we were in trouble."
Both players needed time to be looked over by trainers before continuing. There was a lot of crowd noise from the 33,449 fans as the play developed, but it wasn't clear who called for the ball.
"I go out there as far as I can to try and catch every ball until somebody says 'I've got it,'" Phillips said. "It happened between me and Drew Stubbs a couple of years ago, the same thing happened. It happened again today. But things happen. I'm just happy we had a great road trip. I will be OK. I'm happy we won the game and won the [road] series for the first time. ... I play hurt all the time. Things happen. I will be in there tomorrow."
Mark Sheldon is a reporter for MLB.com. Read his blog, Mark My Word, and follow him on Twitter @m_sheldon This story was not subject to the approval of Major League Baseball or its clubs.