Reds bats show signs of life in minor bounceback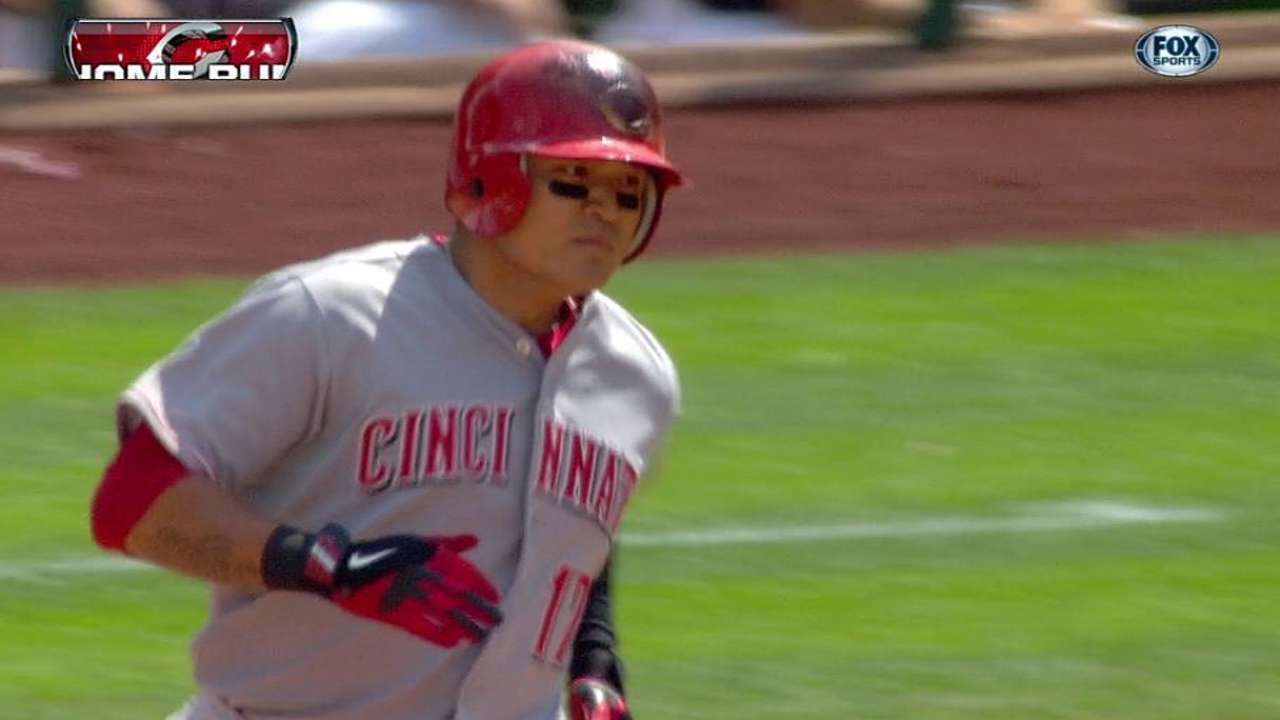 WASHINGTON -- The Reds mustered just one hit in each of their first two games of their series in Washington, becoming the fourth team in the live ball era to have one hit or fewer in two straight games, according to the Elias Sports Bureau.
While Saturday's result was the same -- a third straight loss -- the offensive numbers were a little more encouraging. The Reds had nine hits, including a Joey Votto double and home run by Shin-Soo Choo, and scored more runs than they had in the past three games combined. However, second baseman Brandon Phillips said that in a loss, none of that matters.
"The team's going through a funk right now," Phillips said. "We're hitting the ball good, we're just not finding the holes. You can't win every game. A loss is a loss."
"When it's going good, they're finding holes and when it's not, we're hitting 'em at people," Reds manager Dusty Baker said before the game. "I mean, we hit two balls off the pitcher [on Friday]. You don't panic. Sometimes you go through unfortunate periods of time where, like I said, we can't buy a run. ... If I could explain it, I'd be the best hitting coach in America, in the world."
With Saturday's loss, the Reds also fell to 1-8 on the road this season, the worst road record in baseball. At home, meanwhile, they are 12-4.
"I think everyone's more comfortable at home, just in general, because you're at your house, you get to sleep in your bed," right fielder Jay Bruce said. "But there's such a small sample size. We have 70 games on the road, or whatever it is, so chances are at the end of the day, we're going to be where we're going to be. You have to look at the big picture."
Cincinnati will close out its four-game series in Washington on Sunday, but the road doesn't get much easier from there. The Reds will play three games in St. Louis beginning Monday, then three in Chicago against the Cubs. They won't return home until May 6.
"There's 139 games left, so we have some time," Bruce said. "You just have to take it for what it's worth and take what you can when you can get it. That's just the bottom line."
Tom Schad is an associate reporter for MLB.com. This story was not subject to the approval of Major League Baseball or its clubs.