Miller gets start to catch Cingrani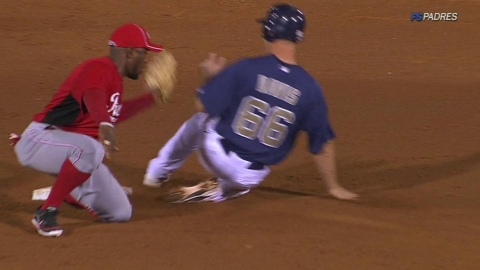 CINCINNATI -- Called up from Triple-A Louisville on Sunday when catcher Ryan Hanigan went on the disabled list, Corky Miller started behind the plate for the Reds on Tuesday vs. the Cubs. It was the 37-year-old Miller's first start in the big leagues for Cincinnati since Sept. 29, 2010.
Devin Mesoraco has caught the last three games, totaling 35 innings because of two extra-innings marathons.
"I'm fine. I feel like I can catch as many as we play, no matter when it is," Mesoraco said. "It's different in the big leagues, I think, because the stakes are much higher. I feel like I trained for this in the offseason, to play every day and catch as many innings as they want."
Tony Cingrani, who was called up from Louisville to replace injured ace Johnny Cueto in the rotation, was paired with Miller.
"[Miller] is catching Cingrani tonight because he knows Cingrani," Reds manager Dusty Baker said. "Mesoraco had to call him to ask advice about how to catch Cingrani. Now we have the advice-giver in house."
When Miller came up, Mesoraco invited him to stay at his place. He has looked to the veteran for advice on working with pitchers and dealing with various situations.
"I've got an extra bedroom. I figured if he wanted to stay with me instead of at a hotel, come on over," Mesoraco said. "He's a good buddy. He's always available to talk to and he's been around for so long. I feel like we get along. We don't really talk about baseball much after games."
Mark Sheldon is a reporter for MLB.com. Read his blog, Mark My Word, and follow him on Twitter @m_sheldon This story was not subject to the approval of Major League Baseball or its clubs.