Reds to call up Cingrani for Thursday start vs. Miami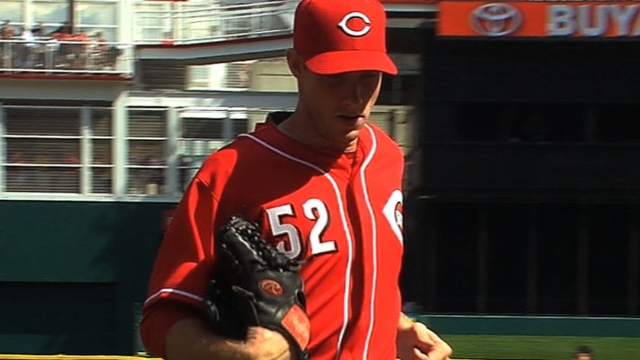 CINCINNATI -- The Reds on Wednesday made official the expected news that left-handed pitcher Tony Cingrani will be called up from Triple-A Louisville to start on Thursday vs. the Marlins in injured ace Johnny Cueto's rotation spot.
A corresponding 25-man roster move to make room for Cingrani has yet to be revealed. Cueto was placed on the 15-day disabled list on Monday with a strained right lat muscle.
Rated the organization's No. 3 prospect by MLB.com, Cingrani was dominant in his three 2013 starts for Louisville. He was 1-0 with 14 1/3 scoreless innings, two walks and 26 strikeouts. Reds manager Dusty Baker is hoping that the rotation doesn't miss a beat with Cingrani taking over for Cueto.
"That's what the depth of the organization is about," Baker said. "We're here to win ballgames and not see who the next rising star is, even though it's exciting. We want him to fit in like we hope he does."
Cingrani's last start for Louisville on Sunday was cut short after two innings and 45 pitches in case he was needed in the big leagues after Cueto was injured during his start on Saturday vs. the Pirates.
In his first start of the year, vs. Toledo, Cingrani had six hitless innings with 14 strikeouts. A third-round Draft pick in 2011 out of Rice University, the 23-year-old had moved up quickly and has primarily excelled with only two pitches -- a fastball and changeup.
"He's been down there to work on getting secondary stuff over. Most pitchers work off of their fastball," Baker said. "The best pitch in baseball is a well-located fastball. There have been guys that throw everything and can't get [anything] over -- they have eight pitches, all of them bad. Then there are some guys like Mario Soto -- he had two pitches, a changeup and fastball."
This will be Cingrani's first big league start, but he made three big league relief appearances last season as a September callup, including one vs. the Marlins on Sept. 15. He pitched 1 1/3 scoreless innings with a walk and three strikeouts.
"That helps quite a bit actually, because you know that you can pitch here," Baker said.
The Reds have not had a left-hander start a game since Dontrelle Willis on Sept. 29, 2011, at Pittsburgh. Cingrani will end a franchise-record-tying 180 consecutive games in which a right-handed starter was used.
Mark Sheldon is a reporter for MLB.com. Read his blog, Mark My Word, and follow him on Twitter @m_sheldon. This story was not subject to the approval of Major League Baseball or its clubs.